John Pollack
The Quiet Storm
by John Pollack as told to Dana Roc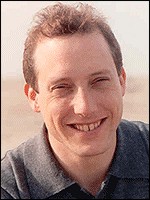 A former speechwriter for President Bill Clinton, John Pollack has built the world's first cork boat.

Prior to his work in the private sector, John worked at the White House and on Capitol Hill, where he was the wordsmith for House Democratic Whip David Bonior. John's speechwriting skills developed from extensive campaign experience and his work as a journalist, both in the United States and abroad.

A 1988 graduate of Stanford University, he began his writing career as a reporter for the Hartford Courant, covering local government in suburban Connecticut. Later, he spent three years in Spain as a foreign correspondent, covering everything from business to bullfights for the Associated Press, the Los Angeles Times, Advertising Age and other media. His first book, The World On a String: How to Become a Freelance Foreign Correspondent, grew out of that experience. Recently, he published Cork Boat, a non-fiction account of his 30-year quest to build a 22-foot Viking ship made completely from wine corks, and its 2002 voyage down Portugal's Douro River.

To the chagrin of his colleagues, John won the 1995 World Pun Championship - his first and only world title. He lives in New York City.
In 1989, the image of one man standing in front. Can one man, willing to take a stand, make a difference? Can one person stop the powers that be dead in their tracks?

Remember Tiananmen Square?

Profiles of that kind of courage seem hard to find these days but, if you are willing to look then you will indeed find,

examples of that kind of heroism.

John Pollack, or JP as he is fondly known amongst his friends, is just such an example. JP is the kind of man that I imagine somebody will want to make a movie about one day. He is the kind of man that people write books about. Like that kid who stood in front of that tank in Tiananmen Square in 1989, JP is a quiet storm. Fueled by his passion to make a difference, armed with the courage of his convictions and shielded by the power that comes with integrity, he willingly answers the call.

John Pollack thinks globally and he acts locally as he fights to preserve those principles and ideals that ultimately shape the way that each of us experiences everyday life.

An extraordinarily courageous young man captured the attention of the entire world in June of 1989, when he single handedly stopped the advance of a tank column by standing in its way...

JP reminds us all again of the power of one man willing to take a stand.

One person cheering doesn't make a whole lot of noise but, you get 100,000 people cheering and suddenly you've got a roar! -- John Pollack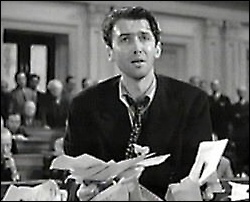 Well, it all starts many years ago.
I grew up in Ann Arbor, Michigan. I grew up going to football games at the University of Michigan. Michigan stadium is the largest stadium in America. When it is full it holds 111,000 people. It is a magnificent bowl. Everyone sits together on bleachers. It is a place where you can go to feel like a part of something that is greater than yourself and to draw from the power of all of those people cheering for the same team. It is a very special place, not just for me but for a lot of people. Even if you are not a Michigan fan, people love coming to Michigan Stadium because it is such a great atmosphere and such a positive experience.
The stadium was built in 1927 so it is almost 80 years old. About a year and a half ago the athletic department announced that it had plans to rebuild the stadium and to radically change it; this perfect bowl that sits in the ground with very little above ground. The athletic department proposed building these super structures a hundred yards long down either side line, twice the height of the current press box with club seating, lounges and private luxury boxes. When I read this in the paper I thought:
"This is a terrible idea!"
A) You are going to take a stadium that is one of the last two pure stadiums in America without advertising or boxes (Notre Dame is the other one) and turn it into every other commercial NFL venue.
And,
B) You are going to divide fans that have always sat together into "the haves" and "the have-nots"
You are going to send the message that
"If you are a very important person then you sit where it is warm, in your toasty luxury boxes. If you are medium important you can sit in a club seat with a back on it and -
COLLEGE FOOTBALL; For the People or the Powerful? Skybox Plan Divides

Michigan

By JOE LAPOINTE (NYT) 1419 words
Published: April 9, 2006

Bill Martin, the director of athletics at the University of Michigan, does not like the term ''luxury boxes.'' He said he did not necessarily want to build private rooms of elite seats atop the flowing rows of bleacher benches that rise gently skyward from the football field of Michigan Stadium in Ann Arbor.

''I use the term 'enclosed seating,' '' Martin said in a recent interview. ''It doesn't have to be all a bunch of little cubicles. The motivation to build enclosed seating is to pay for fixing the infrastructure of the bowl itself and updating this 80-year-old grand old lady. It's not to build luxury boxes.''

But opponents of the renovation say that enclosed seating is simply a euphemism for luxury boxes. They say that adding such seating would amount to a small neighborhood of exclusive little cottages atop what is affectionately called the Big House, which has a seating capacity of 107,501.

They say the renovation would permanently change the egalitarian personality of one of the nation's most famous college sports stadiums. No formal proposal has been presented on the public agenda before the university's eight-member Board of Regents, although ideas have circulated and debate has been spirited behind closed doors.

Most members of the Big Ten Conference, and many other colleges, have added exclusive and high-priced football seating in recent years, part of a trend to find ways to add revenue in college sports. Opponents of the installation of exclusive seating at Michigan Stadium said it was a drift toward professionalism and commercialism, all the more reason to oppose it.

John Pollack, a New York City resident who is the son of a Michigan professor, is leading the opposition with a grass-roots campaign called Save the Big House. Among his allies are Fielding H. Yost III, the grandson of the legendary Michigan football coach, and James J. Duderstadt, a former president of the university and a current professor of science and engineering.

''You are taking the classic football stadium in America and turning it into every N.F.L. venue,'' said Pollack, a former speechwriter for President Bill Clinton. ''It will ruin the stadium architecturally. To enshrine wealth and power in glass and steel at the leading public institution totally undermines the values of the university itself.''

On March 23, the debate intensified when a letter from 33 current and former faculty members was sent to the Regents. It warned of ''lavish entertainment facilities for a privileged few'' and of ''the growing stratification of our society and a sad corruption of our university's defining traditions.''

Duderstadt, who was president of the university from 1988 to 1996, was among those who signed the letter. He said Friday in a telephone interview from Ann Arbor that the university was founded ''primarily to serve the working class'' and that exclusive seating would send the wrong message.

Rather than add boxes, Duderstadt said, Michigan Stadium could expand upward with more rows of common seating, similar to what was done to Notre Dame Stadium a few years ago. John Heisler, a senior associate athletics director at Notre Dame, said in an e-mail message that Notre Dame ''made a conscious decision not to enter into the sky-box business'' because it is a professional sports concept.

Martin, Michigan's athletic director, said revenue from covered seating would finance a major renovation needed throughout the stadium, which opened in 1927.

Last year, Michigan began to sell seat licenses for prime locations. This fall, the top price for a seat license will be $500.

''When I came in six years ago, we had a deficit of $5 million,'' Martin said of the athletic budget. ''I fixed it through bells and whistles.''

Martin said the stadium, despite its mystique and history, was ''economically and functionally obsolete.'' He said that the revenue from new seating would pay for construction of wider aisles, more restrooms, better concession stands and improved access for the handicapped. He said surveys showed that fans want these amenities.

''We have to update the infrastructure,'' Martin said, adding that his department is spending $8 million for routine repair of concrete. Work has been going on at the stadium; a few large cranes and several sections with benches removed were visible on a recent visit.

''We want to improve the environment and the game-day experience for everyone who attends the games,'' Martin said. ''I do have to pay for updating Michigan Stadium, and there is no other economic model that I know of to do it.''

No cost estimate has been made public, although Duderstadt said he had heard the project could cost as much as $300 million.

Mary Sue Coleman, president of the university, said: ''There's been no serious investment in the infrastructure in 50 years. We don't have a workable plan yet. There are a lot of options on the table.''

The Regents, who are publicly elected, meet April 21.

Athletic departments at other Big Ten universities reported generally favorable results from their new seating and said they had little opposition to their construction. Bill Jones, the senior director of ticketing at Ohio State, said it was an ''unbelievable success'' to build 81 suites. Each suite has as many as 16 seats and leases for as much as $75,000 a season.

''The suites generate $6.5 million annually,'' Jones said, adding that ''club seats,'' which are outside the suites, generate $4.5 million. He said the biggest demand on the waiting list is for the suites, which are mostly isolated from the public concourses.

''You don't have every Tom, Dick and Harry walking down the hall just trying to see who they know,'' Jones said.

Ron Mason, the athletics director at Michigan State, reported less success. He said that 17 of 24 new suites were sold last season, but only 277 of 830 club seats. Mason said he expected sales to improve this fall.

He said an unforeseen bonus was the popularity of the restaurant area attached to the club seating. The restaurant is rented year-round for corporate parties and wedding receptions and will eventually generate $250,000 in revenue outside football, Mason said.

One contentious issue, he said, was alcohol, which is banned in the common seating but allowed in the boxes. Opponents of suites at Michigan have predicted that the university will face pressure to allow alcohol there and that it could alter the atmosphere in the stadium.

Tim Curley, director of athletics at Penn State, said that a $93 million renovation of Beaver Stadium, which was completed in 2001, included 60 new suites. He said that ''it went very smoothly,'' with little opposition.

At Wisconsin, the associate athletic director John Chadima said that 72 new suites were sold out and that there was a waiting list.

''There are liquor sales throughout the premium seating areas,'' he said, adding that money from leasing the suites helped pay for a renovation that included making wider concourses. He said that Scott Draper, an assistant athletic director for football at Michigan, had visited Wisconsin to study the renovations.

Chadima said that Wisconsin fans ''were very thrilled'' because they knew Camp Randall Stadium in Madison was in need of a face-lift.

''There was not much talk about haves and have-nots,'' Chadima said. When told of the opposition at Michigan, Chadima said that he understood the feeling but that private luxury seating was ''the way of the world'' in modern sports, and that includes college stadiums.

Pollack, who is leading the Michigan opposition, remains undeterred. He said support for Save the Big House had grown since it began in July. He produced a sheaf of printed e-mail messages generated by his Web site, savethebighouse.com.

During an interview on a snowy spring afternoon, Pollack ate a cheeseburger and sipped a soda at a pub near his home in Greenwich Village. He had a book with him, ''The Big House: Fielding H. Yost and the Building of Michigan Stadium'' by Robert M. Soderstrom, which was published last year.

Pollack, a season-ticket holder for Wolverines football, traces his loyalty to his days at the university's nursery school, which was part of the education department at the time. Both sides in this debate want what is best for Michigan, he said, and opponents have been civil despite their disagreement.

Referring to his allies, who signed the letter that urged the Regents to reject the idea of luxury boxes, Pollack said that ''these guys are old-school Michigan in the best sense'' and that they ''want to protect the character of the stadium we love.''
the rest of you can just sit out in the sleet!
For fans that have always cheered and won together, that is a radical transformation and a radical degradation of the game.
Additionally, the construction of private luxury boxes does not reflect the values of The University of Michigan. The University of Michigan is one of the world's great public universities. I mean -
What does that say if they are willing to spend a quarter of a billion dollars to build private luxury boxes for elite few that get used seven times a year? How does that reflect an egalitarian tradition and the pursuit of knowledge; the pursuit of excellence?
It doesn't!
It reflects an abject surrender to the runaway commercialism of college sports.
When I saw the plan in the newspaper I thought "This is such a bad idea that surely it will be knocked down right away!" Well I waited and I waited for somebody to up. Everybody that I would talk to casually would agree that it was a terrible idea and that it wasn't going to go anywhere. Last summer, however, I realized that football season was approaching and that if I didn't say something about this formally, if I let this happen to a great stadium and to a great tradition, I could never live with myself.
So,
I wrote a letter to every regent.
There are eight regents elected to serve on the board of regents and they govern the university. I wrote a letter to all eight regents, the president and the athletic director communicating the concerns about the proposal. I let them know that there were people who wanted them to look into alternative renovation plans in order to upgrade the stadium for all fans and in a way that honors the Michigan tradition.
The university for the most part ignored the letter. I did have a conversation with the athletic director who told me that I was wrong and that the new stadium was going to be beautiful. He told me that this was just progress and that this was a done deal. I respectfully disagreed and I let him know that I would be speaking out on this issue and that the university would hear from many of us.
I think that the university is not accustomed to having its decisions questioned. Why the university thought that it could propose the quarter of a billion dollar transformation of an icon into a completely different structure without being questioned is beyond me but, that is the course that it set out on.
So, we put up a website called www.savethebighouse.com . The nick name of the stadium is The Big House because it is the biggest! We laid out the issues one by one and we made our case for why we thought that the stadium should be renovated in a different way, without the stadium luxury boxes and we created an e-petition for people to sign and leave their comments. It started out slowly and then it steadily gained momentum as more and more people signed the petition and joined the cause.
The former president of the university, James Duderstadt has joined us against these luxury boxes. The former athletic director Joe Roberson has signed on against the luxury boxes. The long time executive director of the alumni association, Bob Foreman signed on against the luxury boxes. Fielding H. Yost III, the grandson of the legendary Fielding H. Yost who built the stadium has signed on against the luxury boxes. We have really built a broad coalition! Leading faculty sent a letter to the regents saying "These luxury boxes represent a sharp deviation from our academic mission. Let's find an alternative." We have a whole range of people now speaking out in letters and calls and emails and a petition urging the regents to choose another course of action; one that brings people together instead of dividing them.
As I said, the university is not used to having its decisions questioned and initially they tried to ignore us. What woke them up was that The New York Times wrote an article titled:
College Football: For the People or the Powerful that looked at this issue.
The regents of the university are publicly elected officials and as such they need to vote on such matters. We looked and we saw three votes that had to happen before these luxury boxes were actually approved and so we set out to convince enough regents that there was a better course of action.
This is key -
I think that a lot of people think that you have your one shot at election time to elect someone and then you are off the hook for another four years. I would argue that, as citizens, that is only the start.
You need to hold your elected official's feet to the fire and let them know where you stand on the issues.
I think that people are too willing to say "I can't make a difference. I can't influence anything. I am just one person."
It is true that one person has limited influence but together, with a lot of other people, we can have a lot of influence.
Think of one person cheering in Michigan stadium.
One person cheering doesn't make a whole lot of noise but, you get 100,000 people cheering and suddenly you've got a roar!
What we are trying to do here is to give people a way to have their voices heard. We have thousands of people scattered around the world. We had a soldier write in from Afghanistan for example, who said "Don't ruin The Big House!" We can channel this collective voice to the decision makers so that they know that there are a lot of people who want another course of action and who are going to hold them accountable. As a student organizer on this project put it:
"This is not about changing minds. This is about changing awareness."
So many bad decisions are made by government officials or organizations because there is not enough scrutiny of those decisions when they are made; they are not challenged on their merits. For example, on the luxury boxes people were convinced that they needed to do it for the money. Well we looked into it and we had experts look into it and as it turns out, luxury boxes don't make money and that they bring in less revenue than the interest costs to finance their construction.
"Well, Ohio State is doing it and Florida State is doing it and Michigan State is doing it. We need to keep up." Keep up with what? Madagascar cuts down all of its trees. Should we do that because they do it? What might be appropriate for a professional football organization and stadium may not necessarily be appropriate for a college organization and stadium.
So, The New York Times story got a lot of attention and then The Detroit Free Press did a story looking into some of the economics of the stadium. What that did was to spook the university. They suddenly got very anxious that there was a spotlight on this decision.
There was a regents meeting coming up and I emailed the secretary of the board and I asked if the stadium issue was going to be on the agenda. I got a written confirmation that it would not be on the agenda - this was a day after the Free Press article -- and that night they added it to their agenda for a vote the next day. It is a paid member board and three of them said "Hang on! There is no chance for public input here; no chance for the public to testify."
They were voted down 5-3. Then the majority again voted 5-3 to hire an architect to design these boxes.
The backlash to that was severe because not only was the agenda item added the night before on a quarter billion dollar project after the board had assured the public that it was not on the agenda just twenty four hours earlier, the press just beat them up calling them burglars in the night. We have since gotten even more support as a consequence.


Click here to sign the petition
to Save the Big House!
Now we've got tow more votes to go and the pressure is more intense than ever. At the last regents meeting in July, eight of us testified against the boxes - a taxi driver, a professor, alumni, a doctor, a student, a ticket holder -
and we spoke truth to power.
Now do we have four votes yet? That is hard to know. But we've got three votes and we need to get to the fourth vote to bring people to a compromise and a win-win where we renovate the stadium that enhances the game day experience for everyone and does it in a way that honors tradition. Any one of those five people could broker the compromise that will bring people together.
That is where it stands right now.
Gandhi said:
"First they ignored us, then they laughed at us then they fought us then we won,"
That is the process that we are engaged in now:
"First they ignored us, then they laughed at us then they fought us then we won,"
The next big break through was with Frank DeFord, one of the America's most respected sports writers who wrote a commentary for NPR. It was a brutal satire but incredibly truthful about what luxury boxes have come to symbolize in our society. It is no coincidence that in every article about Jack Abramoff, the corrupt lobbyist in Washington, there is talk about the tickets to sky boxes and luxury boxes that he doled out to everybody and their cousin's.
Frank DeFord talks about how ordinary fans are finally rising up against this kind of sports aristocracy.
Is it about the game anymore? The game is secondary. It's just about the power schmooze. If you want to watch the game on a flat screen TV sitting on a recliner, that is fine. You've got a family room for that. If you want to come to the game and cheer with the rest of us, whether its raining or beautiful out, whether we are ahead or whether we are behind, but do not sit in a glass box and look down your nose at the rest of us while you a re cutting your deals! Go do your business at work. This is a football game.
There is this story about a fish in the water and as they turn up the heat a little bit at a time, pretty soon the fish is dead. That is what is happening here.
There is this kind of creeping commercialism, this creeping imposition of the gated community, this creeping erosion of our democracy and our ideals all in the name of progress or money.
What has been very inspiring is to see so many people spanning the decades and spanning the country, give voice to their idealism. I think that in our society now, idealism, unless it is very narrowly defined, is frowned upon. We are supposed to sit down, take our place and don't ask any questions.
I think that we need to be asking a whole lot more questions.



U-M suite foes speak out

Board of Regents hears arguments that changes will alter the character of Michigan Stadium.

Angelique Chengelis / The Detroit News

ANN ARBOR -- The eight men spoke eloquently, thoughtfully and from their hearts.

Former Michigan professors, U-M alums, an incoming freshman and a longtime Ann Arbor cab driver, were among those who used their five allotted minutes at the conclusion of Friday's Board of Regents meeting at the Fleming Building to denounce the addition of luxury boxes at Michigan Stadium.

In May, the Regents voted, 5-3, to approve the estimated $226 million stadium plan that would be completed by the 2010 season. The plan includes two large structures that will run along the east and west sides of the stadium.

"The speakers were incredibly eloquent, but I doubt that it would be enough to change the views of the president, (athletic director Bill) Martin and the majority, unless they recognize that the speakers are symptomatic of a widespread public view, which I think they are," said Regent Laurence Deitch, who voted against the proposal.

Those who spoke Friday blamed Michigan president Mary Sue Coleman and the University Board of Regents for not giving fair public advance notice of the May vote that took place on the U-M Dearborn campus, a fact, they said, that prevented their disapproval of the project from being heard.

"Instead of encouraging open dialogue, they rushed the process," Irwin Goldstein, U-M emeritus professor, said during his remarks.

The men consistently hammered away at two points: The addition of the massive towers will destroy the aesthetics and tradition of Michigan Stadium, and the separation of those in luxury boxes from those in the stadium bowl seats will diffuse the egalitarian nature of Michigan Stadium.

"This project will squelch all tradition," said Albert Meyer, a 1957 graduate of U-M.

All agreed that Michigan Stadium needs to be upgraded in terms of seating, restrooms, concessions and the renovation of the press box, and they subscribe to Deitch's research that all of that can be achieved within a budget of $60 million.

John Pollack, who grew up in Ann Arbor the son of a Michigan professor and is a former speechwriter for President Bill Clinton, has created the savethebighouse.com Web site to build support for the anti-luxury suites movement.

"This is not about changing minds, this is about raising awareness," Pollack, a Michigan football season-ticket holder, said of his group. "I think people are just starting to realize how big these (towers) are, how expensive they are and how they don't fit with Michigan's values or traditions."

But is it too late to affect change?

"They (the Regents) voted to hire an architect, and I think when the plans come in, if the university is truly open in sharing not just these plans but the alternative plans, the Michigan family will weigh in for one of the alternatives," Pollack said. "If you're handed a plate with one meal, and you're told, 'This is what's on the menu,' well, that's what you're stuck eating. You can't hand people a menu with one item on it and say, 'Have anything you want' and call it choice. We are going to see a lot more public focus on this, and I think they're going to insist there be a full, fair and open review of alternatives."