L.E.S. is More. Explore.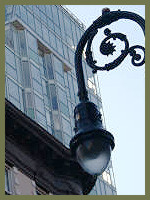 Established in 1992, The Lower East Side Business Improvement District (LESBID) is a non-profit, economic development organization created to revitalize the Orchard Street Shopping District, while preserving its unique and diverse character. The LESBID promotes the local businesses, hosts events and provides community beautification services.

Roberto Ragone is Executive Director of the Lower East Side BID. Mr. Ragone has nearly twenty years' experience in government, non-profit and grassroots efforts. As the Executive Director of the Lower East Side BID, Mr. Ragone evaluates and administers program services of business promotion, advocacy, security, sanitation and beautification.

Noelle Richards Frieson is the Marketing Director.
I had a chance, recently, to sit down and talk to Noelle about one of New York's best kept cultural secrets - The Lower East Side.
DR: I happen to love The Lower East Side. There is so much to discover. Tell me why you think it's such a special place?
One of the things that is unique and special about The Lower East Side (LES) is the juxtaposition between the old and the new.
The LES boasts a magical mix of old and new stores, old and new restaurants, old and new residents, an old and new vibe - the old and the new of New York.
We have stores that have been here for 70 years, four generations, and they've really grown up with the neighborhood. Great, great, great grandfathers came through Ellis Island, peddling their wares from potato sack to pushcart and eventually to storefronts.
Another thing that is unique about The Lower East side is that we have all of these new young people that I would compare to the immigrants of old because, they too are coming from different places to settle here. They are "the new immigrants" and they are coming in and starting these really unique businesses like Roasting Plant, a coffee retailer that boasts fresh superior roasted coffee beans that are ground and delivered through an innovative delivery system, right before your eyes. Or, Hairy Mary's where you can experience the vibrancy of unique vintage and reconstructed vintage dresses. These stores are co-habitating together just as the people who have been living in the neighborhood for fifty years are co-habitating with the new young people who are coming in and giving a new and vibrant energy to the area.
While it is a place for young new energy to come in but at the same time, because it is one of the oldest neighborhoods in the city, it has a real historical base. And living and working here is affordable!
We get grants from the government through an Empire Zone that allows us to give tax incentives to creative industries - marketing and advertising firms, graphic and design firms move down here and receive great tax and employee incentives that cater to the people that are here now. In other words we have an intention to employ the people who are now moving to the neighborhood.
DR: What kind of an experience can people expect to have when they come and visit The LES.
The LES experience is varied and dynamic. You can go to one store and haggle for a bra and then you can go right next door and buy organic clothing from Kaight an upscale eco boutique dedicated to advancing the image of green fashion. You can get your "trendiness on" and travel back in time all in one afternoon. For instance, you can go to The Lower East Side Tenement Museum which offers tours that recreate what day-to-day life was like in the tenements back in the 1860s and, very soon, you can go to the New Museum and experience contemporary art.
Lower East Side Tenement Museum
The New Museum is going to be 16,000 square feet. In preparation for the opening, they are doing a ton of different things in the neighborhood like Family Day on July 28th, where they are planning to teach all of the kids to create art and share what they want the New Museum to look like. They are really investing in the neighborhood.
I am also really excited about The Crown Points Festival which is a three week festival of the best emerging and pioneering artists in film, theater and music from around the world in the Lower East Side of New York City. That is happening in October. They aspire to be the premiere film festival of the LES but they also want to give theater and the visual arts some exposure. They are planning to have all kinds of exhibits that are reminiscent of the 1600s when this area was called Crown Points.
DR: Should we talk about food? Let's definitely talk about the food!
One of the greatest things about The LES is the food! You can visit here and go to 88 Orchard which features delicious salads, sandwiches and pastries or Baby Cakes and get amazing Vegan cupcakes and other sweet, yet sugar-free treats. Then you can head right down the street to Russ and Daughters, purveyors of the highest quality smoked fish, caviar and specialty foods, and get an old fashioned egg cream. Or you can go to Katz's Delicatessen, New York's oldest and largest deli where the pastrami and hot dogs have been voted the best in the US and get a pastrami sandwich. Someone told me once that they sell a thousand pastrami sandwiches a day!
Speaking of food, I'll bet you didn't know how important pickles are!
Pickle Day is coming to The LES on September 16th. We will be featuring over 20 different kinds of picklers. We are going to have pickled fruit, pickled vegetables, pickled cucumbers, pickled pickles! The whole block, from Orchard Street and Grand Street to Orchard Street and Delancy Street are going to be overflowing with pickles that we will be giving out for free. It is a totally free event!
So you can start to get a sense of the many different cultures that we have here on The LES. We have a very strong Italian population like Ronald's Italian Kitchen and a new place called Isabella's Oven. That family, Isabella's Oven, has been living and cooking in the neighborhood since 1930 and they just opened up this Italian Bistro. Then you have the historic Jewish population which gives us a lot of wonderful places that sell traditional Jewish favorites, like The Matzah Factory that sells all Matzah, all the time!
DR: What else is happening this summer that promises to be fun?
Here's something really exciting -
Every Sunday from July 1st through September 9th we are hosting Lower Feast Side: L.E.S. a la 'Cart', an interactive street fair, offering New Yorkers a taste of contemporary fare with a traditional flare. We'll be using old fashioned street carts just like they did in the 1860s. Every Sunday on The LES. Some of the interesting tidbits include the fact that 88 Orchard Street is going to be giving away food. They are actually buying their ingredients from the local green market and then using it to prepare their dishes for the Lower Feast Side to promote sustainability. The LES is working really hard to "go green" and we look forward to being able to make that statement.
The Lower Feast Side a la 'Cart'

A COLLECTION OF CUISINE, COMMERCE AND CULTURE

Sundays from 10:00 AM – 6:00 PM
July 1st, 2007 – September 9th, 2007
(Broome Street between Allen and Orchard)

Activities Include:

Family Friendly activities
Cooking demonstrations and food samplings
Exhibits by local artists
Performances by local musicians
Local merchants selling from pushcarts
Thematic walking tours
The Crown Points Film Festival will be featuring theatre troops. We'll be having two bands performing per day from The Living Room. Family friendly activities like hopscotch and double dutch will be available for anyone who wants to play -- good old fashioned traditional FUN! So that's every Sunday from 10:00 am until 6:00 PM and if you were to come back every week, you would experience something different each time. We'll be featuring artists from the neighborhood like Zito who will be painting people's faces as they pass by, and Carlucci an artist who will be featured at The Gallery Bar - a gallery by day and a lounge by night - will be doing marionette puppet shows and incorporating some of his different art into those shows.
DR: I love your Job!
So do I!
Here's another reason why -
We have started an initiative called The Food Cycle.
We've selected a group of kids from the neighborhood and we are teaching them about food production. How much does it cost to produce food that's not great for you as opposed to vegetables and protein and healthy food? We are working with Whole Foods on this project and they have been amazing. They have been doing cooking demonstrations for the kids and teaching them how to make right food choices. They've gone to Jin an Asian fusion restaurant specializing in sushi and sashimi. They have introduced the kids to sushi and the kids loved it!
We have gotten all of the businesses involved in teaching the young people in our community about eating properly and about how to be environmentally friendly. They are fixing up The Allen Street Mall and they'll be going to The Lower East Side Ecology Center to learn how to compost.
Something else that is very cool is the vintage clothing tour that will coincide with fashion week in the fall. A tour, where everyone is invited, will visit all of the vintage clothing shops so that people can shop as well as learn about the clothes inside the stores.
We are planning an art gallery tour - we've got all kinds of great stuff happening here!
DR: Why do you think that people come and then stay?
Because it is still a neighborhood. People still know you. When you walk down the street you see Guss of Guss' Pickles outside with his mother. Everyone knows them. Everyone speaks to them.
Like Harris Levy, who sells the most wonderful sheets, pillowcases and linens. His wife will sit down with every person who walks into the shop and give them a lesson on thread count and cotton. She knows it all. She might as well be an encyclopedia of linens. Nowadays with these huge chains, you don't get that kind of knowledgeable, thoughtful and intimate help.
We have a small book store called Blue Stockings, a cooperative bookstore. They are amazing and because the people inside own the store, they can tell you anything about any book inside. They have created a real community. It's amazing! They are like the Cheers of The LES.
People know people here. It is one of the last "neighborhoods" in New York. That is really attractive. Plus, you can find that New York flair that you are looking for without it being impersonal. Businesses love it down here because of the great mix of people -- a real unique mix.
DR: What do you think that the future holds for The LES?
The Lower East Side is fast becoming the hub of the creative economy in New York. The people who live down here are designers and artists, marketing and advertising people - people with real creative and innovative hearts.
We invite people to come down and spend time here and experience the magic of The LES first hand. Come visit and you'll want to come back!
WELCOME TO THE LOWER EAST SIDE
...where cultures mingle.

For generations of immigrants, the Lower East Side is where it all began. For a new generation of emerging artists and innovative merchants, the LES is where it's beginning - again.

Historically characterized by tenements and pushcarts, Orchard Street gained its flavor more than 200 years ago, when families squeezed into the tall, cramped buildings that filled lower Manhattan. Industrious immigrants became the Lower East Side's first business owners as they hit the streets, selling their wares from potato sacks to the thousands of local shoppers. Successful business owners expanded their inventory, purchased pushcarts - and eventually storefronts, making Orchard Street one of the busiest commercial districts in the world.

The potato sacks of yester-year and that same entrepreneurial spirit have paved the way for some of today's most popular restaurants and boutiques in New York. The neighborhood so passionately sought for its amazing bargains, has become one of the top destinations for fashion, dining, theatre and nightlife.

Now, old-world shops neighbor a new generation of boutiques and galleries that showcase the New York's avant-garde fashion scene. The time-honored practice of noshing is easily achieved at one of the area's many distinctive restaurants and food shops - whether you crave a towering pastrami sandwiches or eclectic cuisine. As the sun goes down, the streets light up on the LES with a sprinkling of poetry readings, local bands, cozy lounges, bars and restaurants.

Over a century after hardworking immigrant families first crowded the tenements of Orchard Street, visitors from around the world are rediscovering the historic neighborhood and finding new surprises.