Linda Mason, The Art of Beauty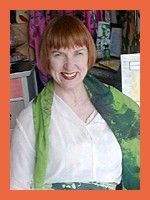 Linda started her career in the late 60s, training with Lancôme's chief makeup artist, Mr. Ulysse, which led to Mason being tapped to launch the line in Beirut. After this successful venture, Linda returned to Paris where she not only trained other makeup artists, but modeled for Haute Couture designers such as Lanvin. During this time she was approached by a cosmetic company to act as makeup artist for a number of their company shoots, after which Linda became dedicated to establishing herself as a freelance Fashion and Beauty makeup artist. Linda got her first big job with the legendary Toscani, for Elle magazine. From that point on Mason was a fixture within the fashion and beauty world, working on many prestigious projects for French and Italian Vogue with photographers such as Helmut Newton, Sarah Moon, and Deborah Turbeville.

While amassing an impressive body of print work, Linda also became the premier makeup artist for Helena Rubenstein. As Helena Rubenstein's chief makeup artist, Linda found that training the HR makeup artists, product development, and working on photo shoots were only a part of the job- Linda was also required to make the rounds of fashion shows in order to drop off product. At that time, models applied their own makeup. Mason observed that the makeup done by the models themselves was totally out of sync with the incredible fashions the designers were presenting in the late 70s. She decided to reinvent the role of makeup, as well as the makeup artist, on the runway by personally applying the makeup on the models. Her efforts where met with resounding approval from designers and models alike and lead to her working throughout the 80's and 90's with designers such as Giorgio Armani, Cynthia Rowley, and John Galliano.

Linda moved to New York in order to further pursue her artistic goals and established her position as a trendsetter by creating a look for Steven Meisel that would prompt the Wall Street Journal to write that "Mason took face painting out of punk and into high fashion". She continued to work with an ever-growing list of celebrities as diverse as Cameron Diaz and Isabella Rossellini; famed photographers such as Richard Avedon, Sheila Metzner and Matthew Rolston; in addition to working on major campaigns for Clairol, L'Oreal, and Absolute. In 1998 Linda opened a shop, which not only showcases her artwork and makeup lines, but gives women the ability to experiment with makeup in a relaxed atmosphere and get invaluable advice from accredited makeup artists. Mason has also developed and penned numerous books and videos (her video "Professional Makeovers", received a VH1 Fashion and Video award). Most recently Mason released "Makeup, The Art of Beauty" (Watson and Guptill1, Sept 2003), and "Teen Makeup, Looks to match your every mood"

Linda continues to push forward in the industry with innovative new products. Above all else Linda continues to further develop and explore her love of art and passion for bringing out the beauty in every woman.
Linda Mason is first, an artist and her approach to beauty is as unique as it is fresh. With a painter's sensibility she is able to create beauty, anywhere and with anyone.

Upon walking into her shop, I am always transported into, not only to a glamorous state of mind, but to a playful one as well. Linda is delightful with an inner beauty that serves to explain -

how and why she always looks terrific!
"Dolls" by Linda Mason

Artist Linda Mason is the embodiment of downtown Manhattan, having called Soho her home for 24 years. Her newest exhibition - "Dolls" – is a coming together of all the many styles of art that Linda has cultivated over the years. Featuring multi-media collages and glass art, the exhibit incorporates pieces as varied as their inspiration.

The collage work can be grouped into two collections. One set is inspired by Mason's childhood in Sunderland, in the UK, and her vacations in the village of Whitburn. She blends her photos and painting with materials found and created in her hometown to craft intricate vignettes that not only symbolize various moments of her childhood, but also connect the similarities between her early years and her life at the present. The second group mirrors her work as a make-up artist; very literally displaying the body painting technique that landed her in Time Magazine and on the cover of The Wall Street Journal.

"Dolls" will open on October 24th at Linda's own Soho studio located at 26 Grand Street. For more information, please either email press@lindamason.com or call 212-625-0490.
The Art of Beauty
by Linda Mason as told to Dana Roc
"People always ask me to name the most beautiful women I have ever made up. I find the question impossible to answer. Often, a beauty that strikes one immediately pales more quickly than a beauty that grows on you and takes time to be discovered."
-- Linda Mason, Make Up: The Art of Beauty
I have worked and still work with what people perceive to be extremely beautiful women. But, there is nothing more beautiful than a woman who is comfortable in her own skin.
I had a crush on Ted Danson and when the movie Made In America, came out I thought "what an odd movie -- Whoopi Goldberg as his love interest? I have to see this. She is not what society typically accepts as beautiful." I went to see the movie and I found Whoopi Goldberg to be so beautiful. Her outer and inner blended together with her incredible sense of humor to make her physically beautiful and I felt that Ted Danson was "a lucky man".
"Many models really were once ugly ducklings who transformed into swans - not because of plastic surgery - but because someone who could see the beauty in them took the pains to make them feel good and capture that spirit on camera. This doesn't happen overnight - I saw girls slowly grow more and more beautiful as they became more confident."
Both Christie Turlington and Brooke Shields are amazing examples of beautiful women, breathtaking when you first see them and equally as breathtaking after having worked with them a number of times. This is very rare. More often than not models and actresses invent themselves, as do we all, one way or another. I am amazed at what some girls start out with and what they become, and that is not with plastic surgery. I begin catching a sense of this while I am working, because I am lucky to be able to spend time with them. They are special, comfortable with themselves. I see these women years later and they have become even more beautiful, this is true beauty. It's not dependant on the color of ones eyes, the size of ones nose or some wrinkles. Every woman has this within her, but unless you become comfortable with your beauty and know that you can never be "everyone's cup of tea" so to speak, then it won't work.
"Using make up to express your sense of yourself also brings about such transformations. A woman who looks and feels good without makeup is beautiful; but playfully adding a dash of color and light or even transforming oneself totally and baffling the world can feel magical."
Being comfortable with yourself doesn't mean shunning makeup. Makeup is fun it can make you feel better on those down days. The ritual of makeup is good for you. Taking that extra time to make yourself up can brighten your world as well as that of others is a generous gesture; reaching out to others, telling them you care. Maybe one begins wearing makeup as a booster thinking we are making ourselves more beautiful or giving ourselves a shell to hide behind as we grow, and makeup can help you with this. However life is about change and evolution, it is never too late to try new things, to bring and satisfy that curious child in ourselves that is always there no matter what our age and makeup, is a great way of doing this.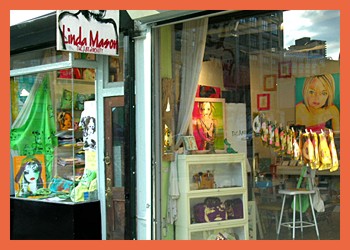 Now the big question, what shall I do for fall?
You'll just have to take some time out for yourself and come visit me at my shop.
Linda Mason
The Art of Beauty
26 Grand Street
New York City, New York
www.lindamason.com
Drop in and we'll try a few things!!
P.S. My fashion note to you:

Do rethink your brows. We have seen enough of the extremely plucked and trimmed brows and we are heading towards a more natural shape. Those with thicker brows will be leaving them almost bushy and those with thin brows, thin.
The Art of Beauty Linda Mason Cosmetics

Linda has taken her talents out of the studio and to the streets, opening her own Soho, NY Gallery/Boutique. When you visit "The Art of Beauty by Linda Mason" you're taking a vacation from the images on TV and in the Mags to reconnect with your spirit of creativity and adventure. It is here that she has perfected her bases and concealers and also flawlessly combined her painting and sculpture with her love of cosmetics which is sure to provide you with a wonderful array of artistic yet practical accessories that will enhance both your beauty and your environment.

You will not only find makeup palettes to transform and express yourself with, such as the Astrological Taurus Makeup palette featured in "Allure" magazine, but also lots of fascinating little pieces of makeup you can put together into a beautiful hand crafted Mini Masterpiece. Unlike other kits you find on the market the colors you can chose from are made to be mixed and layered enabling you to transform your lips, eyes and cheeks with subtlety, ease and speed.

A trend setter, at the forefront of the fashion revolution even before coming to New York from Paris, Linda's ingenuity and artistic talent were an integral part of creating the signature makeup looks for designers such as Jean Paul Gaultier, Theirry Mugler, John Galliano, and Commes des Garcons. Makeup Artist Linda Mason developed this line based on her many years of experience in the studio so that you will not only have the same quality that she has used on celebrities such as Cameron Diaz, Lucy Liu, Camryn Manheim, Naomi Campbell, Cherlize Theron, Susan Sarandon and Brooke Shields, but also the advantage of her METHOD.