Madeline McCray
Actress/Writer
Madeline McCray actress, writer and producer was born and raised in Harlem. She recently returned to New York from the Virgin Islands where she resided as Founder and Artistic Director for a non-profit performing arts organization for At-risk youth. Madeline received critical acclaim for her performance in Suzan Lori-Parks Imperceptible Mutabilities of the Third Kingdom under director Liz Diamond at BACA Downtown in Brooklyn, NY, and for her co-starring role alongside actor John Amos in August Wilson's Pulitzer Prize winning play Fences under director of Seret Scott at Capitol Rep Theatre. During performances throughout the U.S. and Caribbean, McCray continues to receive acclaim for her performance in A Dream To Fly... The Bessie Coleman Story, a solo show that she wrote based on the life of the first female Black pilot in the world.

As a producer and artistic director for St. Croix Center Stage she was responsible for program development, and brought numerous celebrated personalities to the island to perform and conduct workshops including: Danny Glover, Terrie M. Williams, Xavier Artis, John Amos, Glynn Turman, Sonia Sanchez, Matthew St. Patrick, Lillias White, Woodie King Jr. Sheryl Lee Ralph, Virginia Capers, and Levy Lee Simon. Programs under her leadership received grants from the V.I. Council on the Arts, V.I. Humanities Council, and the Law Enforcement and Planning Commission, and the Department of Tourism.

McCray, currently assisting with program development for at-risk youth for Terrie Williams' Stay Strong Foundation, can be seen in Caseload, a play written by Levy Lee Simon, directed by Mary Beth Easley which runs until May 20th, 2006.

The proud mother to sons, Terahshea, and Uhuru, and Nane-Ma to grands, Khalil, Nadir, Minkhara and Elijah, Madeline gives praise and thanks to God for the many blessings that she continues to receive.
I believe that we are inspired by the things and the people that connect us with the essence of who we really truly are. I really believe that. When you cry at a movie, when you are moved by a speech, when you laugh so hard that you can't breathe, I think that happens because you have had a profound encounter with yourself, somehow.

We are inspired by greatness because we ourselves are GREAT.

Madeline McCray is a modern day hero who recognized herself in the life and legacy of Bessie Coleman. Two women, born generations apart, both with a strong commitment to, not only soar, but to uplift the generations that will follow in their generous foot steps.

Bessie Coleman lived life to the fullest as she reached for the stars. Her voice echoes and another voice speaks because -

Madeline McCray has some wings of her own.
I Believe I Can Fly
as told to Dana Roc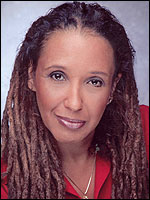 I am proud of the things that I have done -- my sons and my grandchildren.
I am a mother. I have two sons Terahshea, and Uhuru. I have four grandchildren Khalil, Nadir, Elijah, and Minkhara. I always start with them because they are my proudest productions.
My sons are grown, they are 31 and 32 years old and my grand children range from two months to 13 years old. I worry that they have to live in this society. I worry about not only my own flesh and blood but the children that they will come in contact with.
I am no stranger to "the streets". I was born and raised in Harlem and Harlem will always be in my bones. It is where the foundation of so much of my character is born from. The struggles during my time were different but in terms of an emotional experience, it is still the same. I look at what young people are exposed to today, what society has embraced as "OK". The lines have been so blurred between what is right and what is wrong. I knew junkies that had more character than some of the people who wear suits and ties today. Young people really need guidance from people who understand what they are going through but at the same time do not condone their behavior. I have become very passionate about trying to pass along the things that got me through, in my own life.
I have had some struggles. There have been many. But many people have struggled and we can draw strength from our foundation and the legacy that others have left behind.
I believe that you can't save your own without saving what is around them and you shouldn't want to!
I work with "at risk" youth. I love working with young people. What frightens me about young people today is that I don't think that they are being exposed enough to other sides of themselves. We know those images that are presented to them in the media...We are all born with some pretty organic feelings and the only ones that are being cultivated for them outside of the home are images of selfishness. They are not being exposed enough to leaders who stood for something so that they can identify and say, --
"I would like to dream and do that".
Somewhere along the line of expensive cars and bling, we have lost our minds! I believe in social relevance and I want to be a part of that. That is my commitment to live. When I leave this planet I want to leave knowing that I did my best to try and impart knowledge.
Creating work that celebrates who we are reminds our youth that we are a great people.
I have a core belief of really reaching back to what our ancestors went through and what they accomplished in spite of the odds that were stacked against them and the atrocities committed against them.
I love telling Bessie Coleman's story. She encompasses so much of exactly what I feel about life and how we should live it -
to the fullest, to strive to be everything that God meant for us to be when we arrived.
When I first started working on A Dream To Fly, it was back in 1990. My friend John Amos, who everyone will remember from the TV show Good Times and his role as Kunte Kinte in the television mini-series Roots, John and I were working on a project together that he had written for himself called Haley's Comet. I noticed that even with his exposure in the entertainment field as a strong Black actor, the roles were so limited. The roles for Blacks in the industry were limited and we would talk about that.
"Look back and find someone from our history and write about them" is the advice that John gave me.
I had never heard of Bessie Coleman. He explained to me that she was the first Black female pilot in the world.

Bessie Coleman

Bessie Coleman, the daughter of a poor, southern, African American family, became one of the most famous women and African Americans in aviation history. "Brave Bessie" or "Queen Bess," as she became known, faced the double difficulties of racial and gender discrimination in early 20th-century America but overcame such challenges to become the first African American woman to earn a pilot's license. Coleman became a role model for women and African Americans. Her very presence in the air threatened prevailing contemporary stereotypes. She also fought segregation when she could by using her influence as a celebrity to effect change, no matter how small.

Coleman was born on January 26, 1892, in Atlanta, Texas, where she grew up picking cotton and doing laundry for customers with her mother.

The Coleman family, faced many disadvantages and difficulties. Bessie's family dealt with segregation, disenfranchisement, and racial violence. Bessie was a highly motivated individual. Despite working long hours, she still found time to educate herself by borrowing books from a traveling library.

By 1915, Bessie moved to Chicago. There, she began living with two of her brothers. She attended beauty school and then started working as a manicurist in a local barbershop.

Bessie first considered becoming a pilot after reading about aviation and watching newsreels about flight. But the real impetus behind her decision to become an aviator was her brother John's incessant teasing. John had served overseas during World War I and returned home talking about, according to historian Doris Rich, "the superiority of French women over those of Chicago's South Side." He even told Bessie that French women flew airplanes and declared that flying was something Bessie would never be able to do. John's jostling was the final push that Bessie needed to start pursuing her pilot's license. She immediately began applying to flight schools throughout the country, but because she was both female and an African American, no U.S. flight school would take her.

Soon after being turned down by American flight schools, Coleman met Robert Abbott, publisher of the well-known African American newspaper, the Chicago Defender. He recommended that Coleman save some money and move to France, which he believed was the world's most racially progressive nation, and obtain her pilot's license there. Coleman quickly heeded Abbott's advice. Bessie took her savings and sailed for France. She also received some additional funds from Abbott and one of his friends.

Coleman attended the well-known Caudron Brothers' School of Aviation in Le Crotoy, France. On June 15, 1921, Coleman obtained her pilot's license from Federation Aeronautique Internationale after only seven months. She was the first black woman in the world to earn an aviator's license. After some additional training in Paris, Coleman returned to the United States in September 1921.

Coleman's main goals when she returned to America were to make a living flying and to establish the first African American flight school. Because of her color and gender, however, she was somewhat limited in her first goal. Barnstorming seemed to be the only way for her to make money, but to become an aerial daredevil, Coleman needed more training. Once again, Bessie applied to American flight schools, and once again they rejected her. So in February 1922, she returned to Europe. After learning most of the standard barnstorming tricks, Coleman returned to the United States.

Bessie flew in her first air show on September 3, 1922, at Glenn Curtiss Field in Garden City, New York. Bessie became a celebrity. She subsequently began touring the country giving exhibitions, flight lessons, and lectures. During her travels, she strongly encouraged African Americans and women to learn to fly.

Even though Coleman realized that she had to work within the general confines of southern segregation, she did try to use her fame to challenge racial barriers. Bessie returned to her old hometown of Waxahachie to give an exhibition. As in Houston, both whites and African Americans wanted to attend the event and plans called for segregated facilities. Officials even wanted whites and African Americans to enter the venue through separate "white" and "Negro" admission gates, but Coleman refused to perform under such conditions. She demanded only one admission gate. Coleman got her way and Texans of both races entered the air field through the same gate.

Coleman's aviation career ended tragically in 1926. On April 30, she died while preparing for a show in Jacksonville, Florida. Coleman was riding in the passenger seat of her "Jenny" airplane while her mechanic William Wills was piloting the aircraft. Bessie was not wearing her seat belt at the time so that she could lean over the edge of the cockpit and scout potential parachute landing. But while Bessie was scouting from the back seat, the plane suddenly dropped into a steep nose dive and then flipped over and catapulted her to her death.

Despite her relatively short career, Bessie Coleman strongly challenged early 20th century stereotypes about white supremacy and the inabilities of women. By becoming the first licensed African American female pilot, and performing throughout the country, Coleman proved that people did not have to be shackled by their gender or the color of their skin to succeed and realize their dreams.

--David H. Onkst
I frequented New York libraries trying to find information about her and I couldn't find anything. I became very frustrated because I couldn't understand how someone who had been a part of the very birth of aviation was not represented on our library shelves. I didn't get it!
I couldn't find any information on her until I went to The Schomburg Center for Research in Black Culture. The Schomburg did not have books on Bessie Coleman but they had material on micro film about it. I spent an entire day downloading stuff, but it was so worth it. There were newspaper interviews that she had given back in the 1920's after she returned from France, family letters, things her sisters had to say about her. I lost myself in that material and I thought --
"I have to do this!"
For Bessie Coleman it wasn't just about being a pilot.
She was born in 1892. She grew up picking cotton. She eventually decided to leave her home state of Texas and move to Chicago, during very racially charged times. This was a woman who had been exposed to so much violence so, for her to have the vision above and beyond is remarkable.
She didn't have the vision of becoming a pilot when she left Texas but, one thing that Bessie Coleman knew is that she was not going to be anybody's domestic and she had no interest in being married off at a young age. She knew there was a bigger world for her out there somewhere.
Bessie Coleman was born special. She was a born leader to begin with. That is the story in and of itself.
Once she got to Chicago she tried so many things in terms of supporting herself and again just searching, like we should all be doing, for "Why am I here". She didn't know anything yet about aviation so she took mundane jobs until her brother who had been fighting in the war over in France and Germany, came back and talked to her about female pilots in France. It was her "Aha!" moment and,
she never looked back.
Aviation and all that went along with it at the time, in terms of her struggles against racism and sexism, became her driving force. As much as she wanted to learn to fly for herself, what she really ultimately wanted to do, was make a difference for other people. She got caught up in that world of what it meant to be an aviator and what aviation meant for the future.
Bessie Coleman understood the economics of aviation and her goal was to try and share that understanding with her community.
Black chauffeurs for example, here is this little 5'2" Black woman trying to convince these men, whose feet had never left the ground, that they should fly! She tried to convince them using practical means by trying to help them to understand that -
In the future, the man you drive around now is going to own a plane. He is going to want you to be able to get in his car, drive him to his private plane and then get out of the car and fly his plane. That is job security!
What she wanted to do was to come back and teach Blacks how to fly. She really wanted her race to be a part of what she knew was an industry of the future.
Bessie Coleman was a community activist. There was nothing selfish in anything that she did.
She was all about uplifting. She did air shows and if Blacks were not allowed to use the front entrance, she wouldn't do the air show. She was very proud of being Black. Yet she was able to cross lines.
Bessie Coleman stood for something.
Me?
I am not afraid. I am not afraid to try things and I don't believe in taking "no" for an answer and that was something that jumped out for me about Bessie Coleman. That was her motto -
"Don't take 'no' for an answer."
What I want is not just me, but for everyone that I am a part of. I want our people to be afforded the same opportunities as anybody else.
Bessie Coleman, I think, knew that about herself, too.
My sons accuse me of having tunnel vision.
I am very passionate and once I get stuck on something I am stuck.
LIFE is about living up to your full potential and keeping your spirit in that place no matter what! I have always felt that there was something that I was meant to do. I have always felt that. That is what I believe or I would not have survived a lot of the things that I have.
I had to endure domestic violence and in that, knowing that this isn't what life is supposed to be about, and not wanting my sons to grow up thinking that this is normal. You don't disagree and get angry and knock the hell out of your woman.
Now, I look at life as a series of ups and downs and I know that if you believe very strongly in a God, right here and right now, if you believe right now that this is not what your God intended you to do, then you will find a way to remove yourself out of a toxic situation, no matter what that is, and continue to move in the direction that your God tells you that you are supposed to move toward.
And that is where I choose to focus my energy.
This is who I am. I am someone who wants to make a difference in the world that I live in.
Everything that has happened was supposed to happen. It has been a great ride and I pray that I deserve to be here to ride a little longer.
What I want to leave behind is for young people to say -
"She cared about people while she was here". Madeline McCray made me think about this and that was my "Aha!" moment.
The Stay Strong Foundation presents A Dream to Fly

The Stay Strong Foundation will be presenting a free performance of A Dream To Fly for young people. I'm really proud of the youth outreach and educational work that I'm doing with Terrie Williams and The Stay Strong Foundation.

For more information please call:

340-332-9036
or visit
terriewilliams.com