Rye Barcott
Rye Barcott is an officer, in the United States Marine Corps. He has served in Iraq.

Rye Barcott graduated in 2001 from the University of North Carolina at Chapel Hill with a B.A. in Peace, War, & Defense, and International Studies. Formerly a Triangle Institute for Security Studies Millennium Fellow, Rye is Co-Author of "American Anthropological Association Statement on Ethnic Cleansing," and Co-Editor of Armed Conflict in Africa.

In January 2001, Rye established Carolina For Kibera, Inc. (CFK), an international non-governmental organization. A program of the University Center for International Studies funded in part by the Ford Foundation, CFK leads a medical clinic, all-girls center, and youth sports association in the Kibera slum of Nairobi, Kenya.

Rye attended UNC on a Marine Corps Option NROTC Scholarship and In 2002, he served as a member of the World Trade Center North Carolina Board of Directors. Rye speaks Swahili and is currently working on a book project entitled Kibera Blood.
To play a part in helping individuals defy society's expectations, helping people who want to succeed, and not just for themselves, is why he does what he does.

I had the privilege of meeting Rye Barcott recently. To call him an extraordinary human being is to somehow fall short.

Rye possesses a unique commitment to make a difference for people. It is what his whole young life is about.

Rye is just twenty six years old.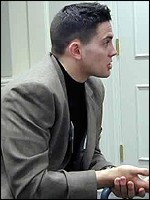 A Lesson in Living
As a student at the University of North Carolina, Rye Barcott received a BA in Peace, War, and Defense and also studied Swahili. The driving force behind his commitment to making a difference in the world was partly due to the civil war in Rwanda and the violence brought upon youth by their peers.

Carolina for Kibera, Inc. (CFK) is a 501(c)(3) international non-governmental organization housed at the University Center for International Studies at the University of North Carolina at Chapel Hill. Rye Barcott is its founder.

What kind of person would dedicate their life to improving the quality of life for people on the other side of the world? What kind of drive, desire and determination does it take to start an organization for people who are nothing like you? How do you do that?

This is what I wanted to know so I asked Rye.

This is what he said:
I decided to go to UNC for a number of reasons. I ended up taking a Marine Corp scholarship to go to school there. I was really interested in studying Rwanda and the genocide that had happened there. I remember being a junior high school student and coming home to dinner one night and being pretty astounded by what I was seeing on T.V. - a genocide unfolding. I didn't understand why it was happening but I wanted to know. I felt a moral obligation to do something. I decided to craft my undergraduate education along those lines.
I hear a very loud noise in the background.
And oh! There goes a rocket! That one was a little bit loud. Are you still there?
I assured him that I was still there.

As an officer on active duty, serving in Iraq, Rye's dedication has not been compromised, in the least.
What continued to astound me about Rwanda was how and why, men and women could be mobilized to kill each other and what could be done to prevent that in the future.
I put together a research proposal to travel to Rwanda which got approved and then a subsequent war broke out in the Democratic Republic of the Congo. I had to change my plans for my junior year summer, rather abruptly.
A very good friend, Jennifer Kaufman, an Anthropologist suggested that I consider Kibera. Kibera is one of the larger urban environments in Africa; one of the largest slums in Africa. It also has a history of ethnic tension, predominantly between five different ethnic groups, Muslims and Christians.
So that's what I did.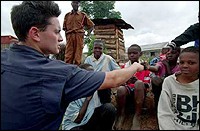 I traveled to Kibera to basically conduct a research project on youth culture. I really had no intention of starting an organization or continuing the work beyond research.
I rented a small shanty in Kibera and lived there for five weeks. I met some really incredible people. What impressed me about Kibera the most was kids my age who had enormous ability and talent who didn't have an opportunity to really exercise that.
I formed a number of friendships. One of those friendships was with a former street kid, a community organizer named Salim Mohammad. A remarkable guy who had pulled himself out of a desperate situation through a soccer league in a neighboring slum called Matharee. What was brilliant about this organization is that it was run by the youth of Matharee. It was the youth themselves that were leading the organization and really finding solutions to some of the very difficult problems that they faced.
For example, in order to participate in the soccer league, every member had to participate in community clean ups. In the slums of Nairobi there are no government services, so refuse is everywhere; a real public catastrophe. But every week, young kids were going out, ages ten to twenty and basically cleaning their community and in return they were given the opportunity to play soccer.
I was surprised that there was not an organization like that in Kibera and I saw some real opportunity for sports and community development to bring ethnic groups together, and promote cooperation and reconciliation. So I proposed to Salim that summer. before going to office candidate boot camp, "Why don't we think about starting a little soccer league in Kibera?" It was a crazy idea. We weren't too sure that anything would take off from that.
Right around that time I met a woman named Tabitha who was the mother of three. Right before I left she came up to me very agitated. She pulled me aside and said "Rye, you ask all of the kids about their problems but you never ask me about my problems. I've got problems too. Sit down and I am going to tell you my problems." And she did for two hours.
She was a registered nurse, but she had been fired during a massive loss of jobs, and she had been unemployed for four years, her husband had died of unknown circumstances. She had no avenue to get any income and support her two kids. It wasn't a unique problem. But what was unique about Tabitha is that she proposed her own solution to the problem. She said "Give me two thousand shillings", which was about twenty six bucks, "I am going to start selling nyana - tomatoes." She had this idea about how to undercut the competition across town. I gave her the two thousand shillings and I didn't' think I would hear from her again.
I went off to officer candidate boot camp with malaria and struggled through that experience, and came back to UNC to finish my Senior year. Around the December time frame, I decided to try and raise some money and make a go of the plan of kick starting a small soccer league with my dear friend Salim in Kibera. My whole intention was to raise a little money, go over there for the summer, do a good deed and then leave.
I raised about twenty thousand dollars, and got the organization registered and went over there during the summer for three months, with two friends, Somage Johnson a guy who was working for Banana Kelly in the Bronx and Nathan Nelson a fellow senior at UNC who also spoke Swahili.
We linked up with Salim and started mobilizing youth from each of Kibera's eleven villages and put together a small inter-ethnic soccer league and had a few community clean ups.
On the third day that I was there, I was walking through the slum and this woman walked up to me and it was Tabitha. She didn't say anything. She just grabbed my hand and started leading me through the zig-zagging alley ways and walked me up to this little tin hut. On the side of the hut it said:
The Rye Medical Clinic
I just kind of stood there flabbergasted. She had taken the small amount of money that she had, sold tomatoes for six months and pursued her dream, which was to start a clinic in her community. She was seeing patients out of her house.
I was very moved by what I saw. What Tabitha did in my mind was providing some opportunity for leaders in Kibera who knew their community better than I ever would, who knew the culture of poverty and how to succeed in it. The clinic became CFK's second program.
I left that summer and came into the Marine Corp and kept working with Tabitha and Salim on email and sometimes phone for the next year. CFK sort of grew from a very small community based organization and over time we developed some other programs. We developed a program called the Binti Pamoja Center which is a center for young women to discuss reproductive health, pure education for HIV/AIDS and basically to promote the rights of women within the community.
I think in large part CFK continues to succeed because of our general philosophy of participatory development which is the understanding that we as outsiders, Americans, Westerners, wealthy Kenyans - we don't have the solutions to the problems that the people of Kibera and places like it face. But, the residents do. Unfortunately they are often ostracized from the rest of society because they are poor. They are stigmatized. They are not given the opportunity to create change, for themselves and for their community.
That was the genesis of CFK.
I asked him what his vision for CFK is.
I want the organization to become even more autonomous, institutionally. The organization is very grass roots. I'd like to see the community in Kibera take ownership of the organization even more than they have done.
We have just started an endowment campaign to raise about two million dollars.
And with that he had to abruptly go.
Carolina For Kibera



An all-volunteer effort run by Kenyan and American youth, CFK's primary mission is to prevent ethno-religious violence by using sports to promote youth leadership, ethnic and gender cooperation, and community development. CFK also works to improve basic healthcare and education in Kibera.

CFK's philosophy is grounded in the concept of participatory development. Solutions to problems involving poverty are possible only if those affected by it drive development. Concerned outsiders can help by mobilizing communities, advising, networking, and providing resources. Ultimately, however, the community possesses the knowledge and motivation that are necessary to solve its own problems.

Carolina For Kibera needs donations.

A donation, in any amount, is the best way you can directly aid CFK's work in Kibera. If you would rather send a donation by mail, you may do so to the following address (checks payable to "Carolina for Kibera, Inc."):

Carolina for Kibera, Inc.
223 East Franklin Street, CB# 5145
Chapel Hill, NC 27599-5145

http://cfk.unc.edu

They also need volunteers. You may communicate a desire to volunteer using the above contact info.