Selma Alabama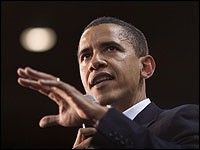 The marches that took place in Selma Alabama forty two years ago, Bloody Sunday being the most memorable, served as a catalyst for the Voter's Rights Act.

Many sacrifices were made including loss of life as people took a courageous stand for the opportunity to participate in the democratic process - equally.

This past weekend two great leaders were in Selma, Alabama to mark another anniversary of this historical event, bringing with them a spotlight that will once again, draw our attention to the Edmund Pettus Bridge and what took place there in March of 1965; men and women who walked because they stood for something that they were willing to die for.

In remembrance:
NPR's Morning Edition, February 28, 2007
A CIVIL RIGHTS MARTYR REMEMBERED

The Rev. Clark Olsen's memories of the murder of Jim Reeb in Selma in 1965
from The New York Times, April 8, 2000

A Civil Rights Martyr Remembered by By Gustav Niebuhr

In religious terms, spring's coming heralds for many people a renewal of hope and expectation. Christians celebrate Easter and its message of resurrection. Jews, through Passover, tell the story of their liberation and deliverance.

So it is something of a painful paradox that the season is also distinguished by the anniversaries of the deaths of American moral figures who were associated with freedom. Abraham Lincoln was assassinated in April, and so too, a century later, was the Rev. Martin Luther King Jr.

King's murder was the most momentous among those of the dozens who died in the cause of civil rights for African-Americans. While all could be said worthy of remembrance, one in particular -- the Rev. James Reeb -- may be worth recalling now, because the events surrounding his death helped hasten passage of the federal Voting Rights Act, a crowning achievement of the civil rights movement.

Reeb, a white Unitarian-Universalist minister who worked with poor people in Boston, died on March 11, 1965, after he and two other Unitarians, the Rev. Clark Olsen and the Rev. Orloff Miller, were attacked in Selma, Ala. They had gone there, to the epicenter of the struggle for black voting rights, two days after state troopers had violently turned back a column of marchers, an event known as "Bloody Sunday."

(Reeb was not the first to die in Selma at that time. Two weeks earlier, Jimmie Lee Jackson, a black hospital worker, had been shot by a law-enforcement officer as Jackson tried to protect his mother from being beaten.)

The "Bloody Sunday" confrontation prompted King to call for clergy members nationwide to come to Selma on Tuesday, March 9, to join the marchers.

Olsen, a pastor in Berkeley, Calif., heard the appeal on his car radio on Monday. "I paid close attention to the news broadcast and King's request," he said in a recent telephone interview from Asheville, N.C., where he now lives.

He said he did not think he could go because he lacked the airplane fare. But when he returned home he found a message from a member of his congregation, offering to pay his way.

Olsen arrived in Selma the next day, after a second march had turned back before a line of troopers. Olsen saw King on the steps of a church, declaring the marchers would not be deterred. King asked everyone to return after dinner for a meeting.

In the crowd, Olsen recognized Miller and Reeb. The three decided to go to a cafe in a black neighborhood. After eating, they headed back toward the church on a shorter route, which (unknown to them) passed through a tough, white neighborhood.

As they neared a saloon, they saw some men watching them from across the street. "One of them was carrying a club," Olsen said. The men started toward the ministers.

"I do remember Orloff and Jim saying, 'Just keep walking,"' Olsen said. Civil rights volunteers were taught not to resist if attacked, but to fall to the ground, covering their heads.

Olsen said that the men came up behind the ministers and he looked back just as one man swung a club at Reeb, striking his head. The sound, Olsen said, was "just awful."

Reeb collapsed. Miller dropped to the sidewalk, covering his head. Olsen tried to run, but was caught and punched, his glasses sent flying. Then the attackers left.

As Olsen recalled it, a frightening night ensued as he and Miller, both with minor injuries, tried to get help for the badly hurt Reeb. A black doctor examined him and said he needed to go to a hospital. An ambulance was called to take the unconscious Reeb to Birmingham, but the ambulance blew a tire outside Selma. A carload of white men pulled up to watch. Eventually, another ambulance came.

Reeb died two days later, producing an uproar that resonated to the White House. (The response, notes David J. Garrow, in his 1986 history of the civil rights movement, "Bearing the Cross," was considerably louder than that after Jackson's death.)

President Lyndon B. Johnson declared the events in Selma "an American tragedy," which, he said, should strengthen people's determination "to bring full and equal and exact justice to all of our people." Johnson's voting rights proposal reached Congress the Monday after Reeb's death.

In retrospect, Olsen said, "it's part of the story of civil rights, and the tragedy of civil rights, that it was the death of a white minister that was the final impetus to the passage of the Voting Rights Act. The deaths of any number of blacks had not received anywhere the amount of attention that a white minister's did."

Olsen has revisited Selma. In 1998, after an anonymous donor gave money for a monument to Reeb, Olsen returned to see it dedicated. He was pleased that the event drew blacks and whites. Last year, during an interview for a television documentary, he met Jackson's sister.

Olsen was asked if he thought Reeb might be considered a martyr.

"He didn't know he was going to be killed, but he knew he was going into the face of great danger," Olsen said. "So, yes, Jim was a martyr. His life was sacrificed in a just cause."

"Attacked by people who hated what he stood for makes him a martyr," Olsen said, "as was Jimmie Lee Jackson."
This weekend, civil rights leaders will commemorate the anniversary of Bloody Sunday — the day in 1965 when civil rights marchers were beaten in Selma, Ala.
The speakers at the solemn occasion in Selma will include two Democratic presidential hopefuls — Sen. Hillary Clinton (D-NY) and Sen. Barack Obama (D-IL).
Obama was just 4 years old when the marchers were attacked. This weekend, he'll be speaking at the invitation of one of the men who was beaten — Rep. John Lewis (D-GA).
"John Lewis is a dear friend and a hero of mine," Obama says. "It is something that I'd always wanted to do."
At his Capitol Hill office this week, Obama spoke with Steve Inskeep about his upcoming trip to Selma and his experiences as an African American presidential candidate:
Do you try to talk in the same way to a black audience as a white audience?
I think that the themes are consistent. It think that there's a certain black idiom that it's hard not to slip into when you're talking to a black audience because of the audience response. It's the classic call and response. Anybody who's spent time in a black church knows what I mean. And so you get a little looser; it becomes a little more like jazz and a little less like a set score.
What about in questions of substance or what you emphasize [in a speech]?
Typically that doesn't change. Whatever the audience, I am typically talking about America's capacity to transform itself — our ability to change and make this a more just and equal nation — despite what look like daunting odds.
Do you feel that you have to prove yourself to black leaders or civil rights leaders?
You know, I really don't. I think it's instructive to look at how I ran my U.S. Senate campaign... I think that the African American community is more sophisticated than I think the pundits sometimes give them credit for. The notion that right now I'm not dominating the black vote in the polls makes perfect sense because I've only been on the national scene for a certain number of years. And people don't yet know what my track record is.
Will you need to dominate [the black] vote in order to win?
I will be speaking to themes that are important to that community, but I don't expect to get monolithic African American vote... I think we have some strong candidates in the field and it would be presumptuous of me to assume that people would vote for me simply because of my race.
Our correspondent, Juan Williams, recently interviewed a number of black leaders about you. One of them was Bobby Rush, the congressman who defeated you one time.
He did more than just defeat me. He spanked me.
Well, this may count as another spanking — I don't know — I'll just read you this quote. [Rush] said, referring to you:
"I'm a race politician and he's not. I don't compromise. I don't step back. I don't try to deny. I'm proud to be an African American."
What does that make you think of when you hear a quote like that?
Well, it's always hard for me to know the context of these quotes. I mean, Bobby has endorsed my race and encouraged me to get in. There's no doubt that in the history of African American politics in this country there has always been some tension between speaking in universal terms and speaking in very race-specific terms about the plight of the African American community. By virtue of my background, I am more likely to speak in universal terms.
May I read you another quote? This is from Peggy Noonan, the Republican speech writer, talking about another path-breaking politician, John F. Kennedy.
She said of Kennedy when he became president, "The good news was that the Irish Catholics had arrived. The bad news was that he was a Protestant from Harvard."
Look, identity politics in this country are always going to be complicated and African American politics in particular is weighted with extraordinary history — often painful and tragic history. And so I think my candidacy for the presidency is going to bring to the surface a whole bunch of stuff. A lot of it won't necessarily have to do with me, but will have to do with the country being in a dialogue about where we are now, how far we've come, and how far we have to go.
Do you think that your life and your experience as an African American would cause you as president to pursue any particular policy differently than if you'd been white? Would you be a different president in some way?
...There are certain instincts that I have that may be stronger because of my experiences as an African American. I don't think they're exclusive to African Americans but I think I maybe feel them more acutely. I think I would be very interested in having a civil rights division that is serious about enforcing civil rights laws. I think that when it comes to an issue like education for example, I feel great pain knowing that there are children in a lot of schools in America who are not getting anything close to the kind of education that will allow them to compete. And I think a lot of candidates, Republican and Democrat, feel concern about that. But when I know that a lot of those kids look just like my daughters, maybe it's harder for me to separate myself from their reality. Every time I see those kids, they feel like a part of me.
Voting Rights

The Voting Rights Act of 1965 prohibits discrimination in voting practices or procedures because of race and color. In 1957 and 1960, Congress had enacted voting rights laws that took small steps toward increasing minority voting participation for all Americans. The 1965 Act, however, made huge strides towards making voting rights a reality. The Act prohibited literacy tests and poll taxes which had been used to prevent blacks from voting (see Background and Introduction). In 1975, Congress recognized the need to protect citizens who did not read or speak English well enough to participate in the political process and expanded the protections of the Voting Rights Act to them.

In 1963, civil rights activists began an effort to register black voters in Dallas County, Alabama. During 1963 and 1964, although they brought potential voters by the hundreds to the registrar's office in the courthouse in Selma, they were unable to get them registered to vote. In January and February 1965, protests were held in Selma to bring attention to this violation of rights. The protests were met by violence by Sheriff James Clark and his deputies. On February 17, a small civil rights march ended in the shooting of Jimmy Lee Jackson who died from his wounds several days later. The civil rights activists decided to hold a memorial march from Selma to the state capitol in Montgomery on March. 7.

Approximately 600 marchers started out on the march that Sunday morning. As pictured, when the marchers crossed the Edmund Pettus bridge on the outskirts of Selma, they were met by about 200 state troopers, and Sheriff Clark and his deputies mounted on horseback, all armed with tear gas, night sticks and bull whips. The marchers were ordered to turn back. When they did not, they were attacked by the law enforcement officers. The air filled with tear gas and marchers were beaten, whipped and trampled by the horses. Finally, they turned around and returned to Selma. 17 marchers were hospitalized.

Dr. King and his supporters filed a federal lawsuit requesting to be permitted to proceed with the march. On March 21, the march began again, with federal troops protecting the marchers, and proceeded to Montgomery. In Montgomery, a rally was held on the steps of the state capitol. However, within hours of the end of the march, 4 Ku Klux Klan members shot and killed Viola Liuzzo, a white 39-year-old civil rights volunteer from Detroit, Michigan, who had come to support the Alabama African-Americans. President Lyndon Johnson said, "Mrs. Liuzzo went to Alabama to serve the struggle for justice. She was murdered by the enemies of justice who for decades have used the rope and the gun and the tar and the feather to terrorize their neighbors." In August, 1965, Congress passed the Voting Rights Act.

According to a report of the Bureau of the Census from 1982, in 1960 there were 22,000 African-Americans registered to vote in Mississippi, but in 1966 the number had risen to 175,000. Alabama went from 66,000 African-American registered voters in 1960 to 250,000 in 1966. South Carolina's African-American registered voters went from 58,000 to 191,000 in the same time period.