A Modern Day Hero, Stan Brock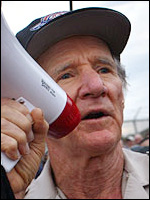 Who hasn't heard of Stan Brock?

For years, Stan was a regular fixture in America's living rooms as co-host of Mutual of Omaha's Wild Kingdom.

That program hasn't been on the air for many years now - but the legacy remains. If you watch TV at all, or if you go to the movies, sooner or later you'll hear a reference to Wild Kingdom. One character will refer to another one as crazy as "that guy on Wild Kingdom who wrestles the snakes."

That's the Stan Brock Americans, young and old, have known and loved for years. But that is just one Stan Brock persona.

Stan grew up as a proper English schoolboy. At age 17 he moved to South America where he spent the next 15 years living on one of the world's largest working cattle ranches.

He eventually became manager of the ranch - and of its crew of Indian vaqueros.

It was his experience there that led naturally to his work with the animals of Wild Kingdom and numerous other television and movie projects. Stan also is a pioneer Amazon bush pilot, a noted authority on wildlife management and conservation, and an expert on rain forests and their inhabitants.

But for 25 years there was one haunting image that Stan couldn't get out of his mind - the isolated Indian families who had no medical care. When he lived there Stan provided what medical care he could as an educated, but non-medical person, but he always wanted to find a way to provide these people with the basic medical care that most of us take for granted.

He did it through an organization he founded called Remote Area Medical, an all-volunteer, airborne medical corps that takes skilled medical professionals from various parts of the developed world, to the undeveloped world.

RAM, as the group is called, has completed some 200 missions. RAM volunteer doctors, dentists, optometrists, and nurses have treated thousands of patients for everything from dietary decencies to cleft pallet surgery.. Volunteers sometimes often hundreds of patients in a single dawn-to-dusk day. RAM veterinarians work side-by-side with other volunteers to treat the dogs, cattle, and other animals of the people RAM serves.
As the healthcare reform debate rages on, there is, thankfully, a shining example, shedding a bright light on what this issue is really all about...
Thousands Line Up for Promise of Free Health Care
By JENNIFER STEINHAUER
August 12, 2009
INGLEWOOD, Calif. — They came for new teeth mostly, but also for blood pressure checks, mammograms, immunizations and acupuncture for pain. Neighboring South Los Angeles is a place where health care is scarce, and so when it was offered nearby, word got around.
For the second day in a row, thousands of people lined up on Wednesday — starting after midnight and snaking into the early hours — for free dental, medical and vision services, courtesy of a nonprofit group that more typically provides mobile health care for the rural poor.
Like a giant MASH unit, the floor of the Forum, the arena where Madonna once played four sold-out shows, housed aisle upon aisle of dental chairs, where drilling, cleaning and extracting took place in the open. A few cushions were duct-taped to a folding table in a coat closet, an examining room where Dr. Eugene Taw, a volunteer, saw patients.
When Remote Area Medical, the Tennessee-based organization running the event, decided to try its hand at large urban medical services, its principals thought Los Angeles would be a good place to start. But they were far from prepared for the outpouring of need. Set up for eight days of care, the group was already overwhelmed on the first day after allowing 1,500 people through the door, nearly 500 of whom had still not been served by day's end and had to return in the wee hours Wednesday morning.
The enormous response to the free care was a stark corollary to the hundreds of Americans who have filled town-hall-style meetings throughout the country, angrily expressing their fear of the Obama administration's proposed changes to the nation's health care system. The bleachers of patients also reflected the state's high unemployment, recent reduction in its Medicaid services for the poor and high deductibles and co-payments that have come to define many employer-sponsored insurance programs.
Dana's Interview with Former Host of Mutual of Omaha's Wild Kingdom and Founder of Remote Area Medical, Stan Brock


DR: Tell me about your life and your work.

SB: What is most relevant for this program right now, Dana, is to replicate it throughout the United States because we have a mandate from the American public apparently, with huge quantities of mail coming here from concerned citizens, about the health care crisis in the United States.

Up until a few months ago when 60 Minutes and CBS happened to do a profile of Remote Area Medical's work in this country, the only people who really knew who we were, were the poor. Now the general public knows about us in large numbers. Also the foreign public knows about us now because 60 Minutes plays in a lot of foreign countries. I met somebody yesterday who had been in a hotel in one of the Baltic States and saw us on 60 Minutes.

The problem is, that as long as I have been in this country, which is a long time, people have not been able to afford health care unless they are either very well to do financially, or very well insured. Here we are in the richest country in the world, listed as number thirty seven out of one hundred and ninety countries, by the World Health Organization, in terms of our ability to provide care for our citizens. The system here is a privilege of the well to do and the very well insured. Most people seem to sort of fall outside of that economic block.

We have seen an increase in the number of patients that we are seeing. We have seen a steady decrease over the last two years in the number of children that we see, which is gratifying, even though we never saw more than 6.6 percent at our hugely attended clinics. Most of the participants are adults. The percentage of children has fallen to about 3percent. In fact we just held a clinic in the mountains at the West Virginia Kentucky border and there were only 3.9 percent children. Children, up until the age of eighteen are able to get the care that they need in most cases, but after the age of eighteen they are sort of thrown out there to the wolves as far as health care is concerned, unless their parents are well off or they have a good job and excellent insurance.

Most insurance policies exclude dentistry and vision care so you've got millions of people out there in terrible pain from bad teeth and neglect. They can't see well enough to get a job when all they need is a pair of glasses.

DR: Oh yeah... absolutely...

One of the things that is so stunning about your work is that you started out intending to conduct most of your clinics in third world countries and yet you have ended up conducting about 60 percent of your clinics in the United States.

SB: Yeah...

You know I grew up in a wild part of the upper Amazon. We were twenty six days on foot from the nearest doctor. So, a few injuries later and a couple of bouts with Malaria and other diseases, sort of convinced me that if I ever had the opportunity, I would bring the doctors a little bit closer than twenty six days on foot.

We started out as an airborne relief organization with an overseas agenda but rather early in our career we discovered that there was a need here in the United States that wasn't being met. Now, 60 percent or more of our work is done in the United States...
Many of those here said they lacked insurance, but many others said they had coverage but not enough to meet all their needs — or that they could afford. Some said they were well aware of the larger national health care debate, and were eager for changes.
"I am on point with the news," said Elizabeth Harraway, 50, who is unemployed and came for dental care. "I think the president's ideas are awesome, and I believe opening up health care is going to work."
Stan Brock, Remote Area Medical's founder and among the many khaki-wearing volunteers in the arena, said his organization's intent was not to become part of the health care debate, but to do what it had done for nearly 25 years: offer charity to people in need. Still, the group attracted attention last month when President Obama visited Bristol, Va., just days after it held a health care event in nearby Wise, Va.
"My position on the Obama plan is that I am delighted to see so much focus on the health care issue," Mr. Brock said. "There is incredible focus on what we do, but that is not my doing."
In the past, Remote Area Medical has also provided services in mid-sized American cities, including New Orleans after Hurricane Katrina, but had never tried an operation in such a large metropolitan area. Mr. Brock said the considerable logistics were made possible with the help of Don Manelli, a film producer, but he said he was disappointed in the dearth of volunteers among local providers — specifically dentists and optometrists — which made it hard to provide services for all comers.
Ana Maria Garcia, who works for Orange County, has health insurance that covers her husband and 3 ½-year-old daughter, but her dental deductibles are too high for them all to get care, she said.
Ms. Garcia's husband, Jorge, who was laid off from his custodial job last October, arrived from their home — a 90-minute drive away — at 4 p.m. on Tuesday to get the family's spot in line.
But the Garcias' number never came up, so they slept in their car for a few hours and lined up again early Wednesday morning, awaiting a chance to get root canals and cleanings that Ms. Garcia figured were worth thousands of dollars. They made a friend in the bleachers outside, who gave the family some coffee and hot biscuits for breakfast.
"Regardless if you are employed or not," Ms. Garcia said, "everything in California is expensive, and so I can empathize with everyone here. Looking at this crowd, I think this is what people fear health care is going to be with reform. But to me it also shows the need."
Last month, the state dropped its dental and vision coverage for MediCal enrollees, and has since capped enrollment in the state's health insurance program for children of the working poor. Thousands of people across the state lost their coverage in the middle of complex, multimonth procedures and have found themselves at a loss.
Sammie Edwards, a retired welder, was in the middle of getting dentures made when his care ran out, he said. A friend at a food bank clued him into the free clinic. "A lot of older people are caught in the midst of this," Mr. Edwards said.
Begun in 1985 as a mobile health clinic serving undeveloped countries and later rural America, Remote Area Medical provides various medical services through units to people who are largely unable to gain access to health care. Officials from the organization said they believed that this week's event in Los Angeles constituted the largest free health care event in the country, with the arena and all supplies and services provided free to the group. Other expenses were covered by the group's fund-raising.
On Tuesday, volunteers provided 1,448 services to about 600 patients, including 95 tooth extractions, 470 fillings, 140 pairs of eyeglasses, 96 Pap smears and 93 tuberculosis tests, the organizers said. Hundreds of volunteer doctors, dentists, optometrists, nurses and others are expected to serve 8,000 patients by the end of the eight days.
For those willing to endure the long waits, the arena was like a magical medical kingdom, where everything was possible once a person got through the door. Mike Bettis, who runs security for a nightclub in Hollywood, and his fiancée, Lourie Alexander, who cleans homes, said they usually went on Craigslist, exchanging a home cleaning for a dermatology appointment.
By Wednesday, the couple had gotten between them dentures (him); a breast exam, Pap smear and general physical (her); and acupuncture (both).
"What I liked about it was that everyone was so sweet," Ms. Alexander said. "You know when you haven't seen a doctor in so many years you have a lot of questions."