Steve Pageot
Steve Pageot was born in Brooklyn, NY, but he was raised in Canada where he dreamed of doing his music in New York City. He was determined to make his dream come true.

Over the years, he has made quite a name for himself among industry VIP's and he has proven himself to be a talented producer, musician, composer and engineer.

Soon after he moved to New York City, Pageot signed a management agreement with Ron Lawrence Productions, producing the song, "The War Iz On," with Loud recording artist Krayzie Bone (of Bone Thugs-N-Harmony) on his platinum album, Thug Mentality 1999. This success launched his career as a full-time producer, working with acclaimed artists like Aretha Franklin, Ruben (from American Idol), 3LW, Wyclef, Snoop Dogg and Nick Cannon.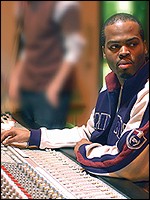 A Man Who Won't Be Denied
Steve Pageot as told to Dana Roc
Steve Pageot is relentless when it comes to getting what he wants and accomplishing what he sets out to accomplish. And, although he has a manner that is quiet, gentle and easy to be with, I would go so far as to call him ruthless when it comes to making his mark.
We talked last week:
_________________________________________
"I started training to play music at the age of 3. I began with guitar, and at 13, I entered a high school called Pierre-Laporte, where I picked up the flute and studied classical music. At 17, I won the most prestigious classical music award from the Canadian Music Competition. When I turned 21, I put a recording studio together in my parents' house. There, I learned how to engineer and soon began producing local acts for $80 a track. In 1997, I finally moved to New York with $400 and got signed by producer Ron Lawrence, who worked for P.Diddy. My first project, "War Iz On" by Krayzie Bone, went Platinum. One project led to another, and in 2004, I won a Grammy Award for a song I engineered: "Wonderful" by Aretha Franklin. At the same time, I was fascinated by the world of commercial jingles. It wasn't easy to enter into it, but one day, I got my foot in the door."
That seems to be one of the secret's to Steve's success - getting his foot in the door. He shared with me about how, on a trip to New York, while browsing through popular CD's he noticed that almost every CD he was picking up was being produced by this guy, Puff Daddy. He decided that he had to meet this guy and so he went directly to his offices.
"January '93 I came to New York and every CD that was being sold, behind the CD, all I saw was Puff Daddy, Puff Daddy, Puff Daddy, but I didn't know who Puffy was. So what I did was, take the address down and I went to Uptown Records. When I got there I told the receptionist that I had an appointment with Puffy. I just made that up. Kirk Burrowes overheard my conversation and he told me that if I came back tomorrow, he would make sure that I would have a meeting with Puffy."
It took 4 hours of waiting in the lobby to finally meet Sean "Puffy" Combs, but it was a meeting that would result in his focusing on how to make music that people would respond to.
"I got signed to one of his producers and that's how I got into the whole Bad Boy camp, but at that time, he wasn't feelin' my music. So, I went back to Montreal to revamp my music and to develop my own style."
Steve is somebody who is all about making things happen.
"It's all about going to the next level."
His levels are impressive and he is always looking for the next thing. Steve doesn't limit himself to just recording records either.
He has produced songs for films such as Ghetto Dawg and Sucker Punch; as well as, created the theme music for ABC Family's "Secrets of Hollywood's Hottest Hunks". He also writes music and produces commercials for Trix Yogurt, Trix Cereal, Hoover Vacuum Cleaner and Burger King. His beats can also be heard on TV promos for VH1 ("Big In 2003") and ABC Family (including television series "Dance Fever"). In addition he has promos on the radio for several WBLS's DJs like Egypt, Tra'Renee and Champagne. Complementing to his producing, Steve is presently endorsing prestigious companies such as: Yamaha Keyboards, NeumannUSA, Applied Microphone Technology, NADI, Event Electronics & Universal Audio.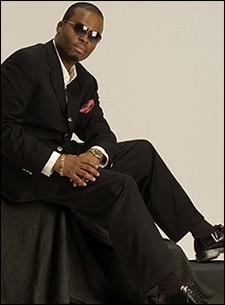 Recently, Steve signed a deal with MTV, giving them permission to use his music on hit shows such as "Run's House", "MTV Cribs" and "My Sweet Sixteen".
One of the things that I find makes Steve unique is his passion about the fundamentals of music. He is very outspoken about it:
"The fundamentals of music have been lost over the years. Music is not what it used to be. The majority of the producers out there have no knowledge of music theory. They probably would not even know the definition of music. Anyone that has studied music will tell you, that is the first question asked in the theory book. Singers rely on auto-tune to fix their vocal tracks. Me on the other hand, I'm a classical trained flautist. If I wanted to, I could go to Carnegie Hall tomorrow, give a concert and get a standing ovation.
Don't use technology to do a hit! Use the fundamentals to do a hit. Respect the art form and you'll be respected like Quincy Jones & BabyFace."
While he is outspoken, Steve also put his money where his mouth is by teaching and giving back.
"I've been doing music workshops and giving lectures at The School of Audio Engineering (SAE), for a year & a half and last June the school made me an offer that I could not refuse -- to take a 4 week teachers' training class. Now I have my license to teach in the State of New York.
Recently the music supervisor from the 92st Y in New York called me because he heard about the things that I was doing. I met with the staff & now I'm on board. I'll be giving my first lecture at the 92st Y on March 6, 2006."
Steve urges young musicians to:
"Learn the business! Read the books"
And
"If you have a dream, you shouldn't let anybody stop you."
When I asked Steve why he does what he does, why he works so hard at it, he said:
"I'm working hard so that My name becomes a Brand."
"I just want to go down in history as somebody who changed the world. When people hear my name, I want them to stop and listen. It's important to me because if I don't do music, I'm sick. It's important for me so that people can see that dreams can come true and sometimes you are going to face obstacles. I want to open doors."
My life dream is about doing what I love doing - music. Being able to break down walls and make people smile with what you are doing."
Steve Pageot is definitely one of the "Industry's best kept secrets" and someone to definitely keep on eye on...