Tommy Hayes-Brown, Adoption Advocate
We Are Family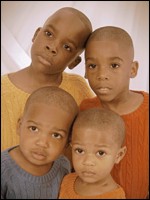 His whole life is about his family. His whole family is about making a difference in this world.

Tommy Hayes-Brown knew from a very young age that he wanted to adopt children one day. Today, he and his wife Sharon have four beautiful boys - the first three adopted and the fourth, their natural child, and Tommy would be the first to point out that all of his kids are just his kids.

To listen to Tommy tell stories about a day, any day in his life with his kids, is to fully appreciate the fundamental joy of -

LOVE.
DR: Why did you adopt?
THB: My sister is adopted. She is biologically my first cousin and we adopted her when she was three weeks old. She has just always been my sister and I have always had a positive relationship to adoption.
I met my wife Sharon in college. We were very good friends for the four years that we were in school. We never dated until one day we realized that what we were looking for was right in front of us. We became engaged a month after we started dating because we knew each other so well.
I truly married my friend.
Sharon mentioned to me one day, that she read an article about adoption in Essence magazine when she was a teenager. The article cited that there were so few Black families that were adopting. That made an impression on Sharon. She knew then that she wanted to adopt one day.
After we got married we decided that we would adopt a child and have one. We wanted to adopt first because we figured that life can come at you sometimes and we wanted to make sure that nothing would get in the way of our adopting.


Oree Believe, Zion Zubari, Isaiah Jsahni and Solomon Soul (top to bottom)
We adopted Oree, our first son, when he was 18 days old. A year later we got a call from the same adoption agency letting us know about Zion and we went and picked him up. So, here we had two boys, ten months apart and we planned that, after a couple of years, we would our biological child. We got another call from the agency a year later about Isaiah and so we went and picked him up. He was two days old.
DR: Are your three adopted boys related?
THB: None of my boys are biologically related.
DR: So, the adoption agency knowing that you guys were great parents, just kept calling?
THB: Yep. They kept calling... Yeah.
And, a year later, Sharon gave birth to Solomon.
DR: Wow... How awesome... That's a beautiful thing and it is so consistent with how beautiful all of your boys are. It's all reflected.
THB: Well, that makes my day.
DR: What is one thing that you are really proud of?
THB: Well not to bore you but, again, my family...
I am just really proud of my family. Things haven't always been easy but Sharon and I have always had a strong friendship to fall back on. We have always been great friends. I am proud of the way that we have created our family.
I like for people to know that my kids are adopted. My kids know they are adopted. It's just a part of who they are.
"Some people have freckles, some people are Muslims. You're adopted..."
These are all just different aspects of what makes any of us who we are. That is how we are raising them but on the other hand -
they are just my kids.
Sometimes, when it is appropriate, I will talk about the adoption but a lot of times people don't even know because there is no need for them to know. I don't want them to be a side show or looked at as something abnormal. My two older boys look alike, our younger ones look alike and they all have characteristics like me and Sharon.
What I am most proud of is my family.


The Hayes-Brown Family
DR: I get a sense that you and Sharon are very unselfish people on a lot of different levels. Is that true?
THB: We go through this world wanting to leave it much better than it was when we came. Everything we do, from the hybrid car I drive to recycling to my work with Big Brothers and Sisters to work with the PTA and volunteer work to clean up our community - we just believe in being involved in the world that we live in and not being a passive person. We do it all because it's the right thing to do but to also show our children how we want them to go through life.
I like people. I like the world I live in and I want my children and grandchildren to enjoy the world and make it a better place. It sounds corny but - that's me. I'm corny.
DR: I like "corny". Corny is good.

How do you deal with difficult times and challenges?
THB: Nothing really ruffles my feathers. I am lucky in that way. My wife is a bit more of a type "A" personality. We kind of balance each other out. We use each other. We also have a deep faith in God. That helps me to understand that the challenges I face are just building blocks and learning opportunities to get to the next level. I always try to pick myself up and dust myself off and keep going. It's simple. People just make it more complicated than it has to be. I don't sit around complaining about what happens to me. I just take whatever is in front of me, remind myself of my priorities and I keep moving.
DR: Who are your heroes?
THB: I have lots of heroes.


DISCOVERY HEALTH CHANNEL'S ADOPTION STORIES

The Discovery Health Channel won its first Daytime Emmy in 2004 for its original series about adoptive families, Adoption Stories. Adoption Stories is a true-life, emotionally charged reality series focusing on compelling stories about people around the world who deeply desire to have a family and the children they embrace as their own.

Visit Discovery Health Channel's TV listings page or watch your local Discovery Health Channel listings to watch the Hayes-Brown Adoption Story.
My biggest hero is my wife. She is truly one of the best people that I know. She never lies. She never cheats, she is genuinely concerned about people and she works very hard at improving herself in trying to be a better mother and a better wife.
For example -
This May she is graduating from college.
She never completed her degree. For twenty two years she has been working on this degree and now she is graduating in May. That is a huge example of her ability to persevere. Life happened. She followed me as we moved all around and she kept losing credits. She had to go part time a lot and when the babies came along she would have to take semesters off for them. Life kept throwing things at her but she kept taking a class here and there and now she is graduating at the top of her class.
She is finally getting her Bachelor's Degree.
She always joked that she and Oree would be graduating together:
"With any luck I'll be graduating with my oldest son".
I think that she is really a great example. Not everybody can get there degree in four years and just because you don't doesn't mean you aren't smart. Sharon is honestly one of the smartest people I know and she can whip circles around a lot of people I know who have degrees.
She wanted to do this for herself and it took her twenty two years but -
She's got it!
DR: What do you think people like most about you?
THB: People would say that I am very kind and that I wouldn't hurt a fly.
I am the "dependable one". People know that can come to me for - whatever. I think that they think that I walk the talk.
DR: What do you want your legacy to be?
THB: I would love for my legacy to be about -
Adopting children.
I call myself an adoption advocate because I am so happy about the family I have created. My children are just beautiful, beautiful children.
We went and got all three of our adopted children without seeing them first because it didn't matter to us what they looked like…
DR: What I appreciate about you is that you are in fact out there doing. You are "walking the talk".
THB: I am not saying that everyone should do that and I am not saying that everyone should adopt. Adoption is not for everyone...
I don't think that adoption is right for everyone but it is really right for us...
ANOTHER CHOICE FOR BLACK CHILDREN



Adoption is not new to the African-American community. As a people, we have historically taken care of our own. The North Carolina Association of Friends of Black Children developed based on this conviction. From its fourteen year history of proving that Black families do adopt evolved Another Choice, the state's first African-American adoption agency focusing on recruiting adoptive homes for African-American and other special needs children.

Founded by Ruth Amerson and opened on January 15, 1995, the agency has successfully united more than six hundred (600) children with families. The majority of these children are older children or members of a sibling group who only dreamed of having a permanent home. The agency has been recognized for its accomplishments on a national level by the Los Angeles Times.

Today, the agency has moved to a larger facility at 2340 Beatties Ford Road, Charlotte, North Carolina. Another Choice continues to take the adoption world by storm. Ms. Ruth Amerson, now the agency's Chief Executive Officer, remains an advocate for families for the children waiting in the foster care system. She is included in the Millennium Edition of the National Register's Who's Who In Executives and Professionals. With God's continued blessing, Another Choice remains committed to the belief that adoption does change the world... one child and one family at the time.

Click here to visit and learn more about Another Choice for Black Children.