Anna Zanes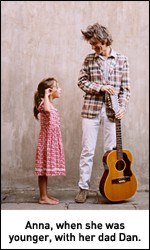 I received the following email a few weeks ago:


The children of the AGAPE Orphanage in South Africa know adversity: every day the HIV/AIDS pandemic kills 8000 people, and in their neighboring population, the infection rate is nearly 40%. The AGAPE Orphanage is home to 30 orphans, aged 7 to 16 years, and their spirits thrive despite their devastating situation. How can it be that in a country as rich as South Africa these children are left to wander the landscape alone? After having lost their parents to AIDS or other issues exacerbated by the disease, founder Zodwa Mqadi took them in and gave them a safe haven.

Yet in a devastating matter of months, an electrical fire destroyed the AGAPE orphanage, leaving the children homeless, left to sleep in a converted shipping container. Although a committed group of volunteers led by British filmmaker Paul Taylor had recorded a CD of traditional Zulu songs with them, things began to get worse. Their concert tour was cancelled due to a lack of funding, and a young member of the AGAPE community fell victim to AIDS. Amidst the devastation, in March of 2004, KCA founder Leigh Blake joined forces with another charity Love Hallie to turn the tide and bring the AGAPE children to New York City to help fundraise. The children met and performed with their idol, Global Ambassador Alicia Keys, then returned home to Africa with more than $64,000 to begin reconstruction on the new orphanage. Alicia, who became aware of the talented children after Leigh Blake forwarded her their CD, agrees that, "The children of AGAPE are an amazing group of children who have suffered so much, but we feel their spirit in their voices. It's just so moving and pure.

The new AGAPE orphanage is being rebuilt in 2 phases. Working with KCA, and with the generosity of many others, the first phase is now on the way to completion. It involves a central building that will serve the children with cooking facilities, washing and shower blocks, dining areas and a number of classrooms. The second phase will contain eight satellite homes that will surround the main centre, each with its own "house mother", a parental figure, who will be shared by six to eight children. Once Phase 2 is completed, the new AGAPE will have adequate space for 64 children.

KCA is working to raise more funds to help the children while also raising awareness that they are just six out of 12 million AIDS orphans in Africa. There are still a disturbing number of children who are not as lucky as the children of AGAPE and this number is rising. However, the continuing progress made with KCA is allowing more children the home, the family, and the future that they all deserve.

Click here to visit KeepAChildAlive.org to learn more.
Hello Friends,

I am happy to invite you to a fundraiser this Sunday, April 29th with The Children of Agape, an amazing South African vocal group from the Agape orphanage in Durban, South Africa. Their orphanage burned down in 2005 and we are working to raise funds to help finish the rebuilding. I spent time with them during their last two visits to New York and I love them as people and I love their music.

This is an opportunity to help.

I am putting on this concert in cooperation with my friends at Keep A Child Alive from whom I have learned a lot about the tragedy of AIDS in Africa and the millions of AIDS orphans as well.

Please join me to help our friends at Agape and to experience their incredible music on Sunday April 29th at 2pm.

My dad, Dan Zanes, will be one of the musical guests and there will be a reception following the concert for anyone wishing to make donations beyond the ticket price.

Thank you!

Anna Zanes
Anna Zanes is a seventh grade student with all of the concerns and preoccupations of most kids her age. Yet Anna made the time and put forth the effort to help some kids who have experienced more than their fair share of tragedy.

With the help of her of Dad and a few other really cool adults, Anna has raised over $12,000 for The Children of Agape; money that will go a long way in helping them rebuild their orphanage and in getting the medicine that they need.
---
Being A Friend
(Anna Zanes as told to Dana Roc)
It all started when Leigh Blake from Keep A Child Alive (KCA) asked my Dad, Dan Zanes, to help The Children of Agape with their music.
My Dad loved their sound, so he put them on his CD. I got to know a few of them on their first trip here. They came back again, and we got to know each other again.
Recently, my Dad told me that The Children of Agape were coming back - again! I was, at the same time, trying to choose a Mitzvah Project - my bat mitzvah is in November. Because I wanted to help people I know and people that I feel a strong connection to, I chose to help The Children of Agape.
It has really been an experience. I love them very much, and it is great to get to know people from such a different culture.
These kids are amazing people who shouldn't be living in a shipping container. They are smart, funny and healthy children whose lives were changed by the effects of AIDS and the other diseases that killed their parents.
If you would like to donate, you can write out a check to:
Keep A Child Alive
45 Main Street
Brooklyn NY 11201
You can visit them online and find out more at:
The donations will help to save the lives of children living in Africa, and help these children get the vaccines and other things that they need to survive.
I hope that The Children of Agape get what they deserve, including everything that was taken from them when their home burned down two years ago.
Keep A Child Alive is all about ACTION

We ask YOU for ONE dollar a day to Buy the drugs that keep a child alive. It's simple, it's straightforward,it's direct. One dollar.

But there are other ways you can help. You can use your voice.


That is why Keep A Child Alive has chosen to support the One Campaign.

The ONE Campaign is a new effort to rally Americans to fight the emergency of global AIDS and extreme poverty. They are inextricably linked. Each ONE of us can make a difference. Together as ONE we can change the world. Sign the One declaration TODAY.

Things To Do In Your Community:

Keep A Child Alive's mission to provide children and parents with lifesaving ARV medication is supported by groups and individuals who sponsor fundraising projects or special events. School groups, churches, businesses, clubs, groups and individuals contact us daily with wonderful and creative ways to raise money and awareness of our cause. Before you embark on your fundraiser, check out our community fundraiser guidelines and contact Danielle Spitzer for pre-approval of your project at danielle@keepachildalive.org.

If you would like to help us, here are some ideas of things that you can do:

Auctions
Bake Sales
Car Wash
Garage/Tag Sale
Concert
House Party/Dance or Social
Donating a percentage of sales from your business
Ebay Auction (Mission Fish)
Walk-a-thon, Bike-a-thon or Marathon
Workplace Campaign (collect one-time gifts or sign up monthly donors)
Table in college campus student union or commons (with appropriate approval) Go to KCA College for more info
Instead of gifts for birthday/holiday/retirement parties ask for a donation to KCA

Click here to donate to Keep A Child Alive.