Gussie Roc's The Gussie Gazette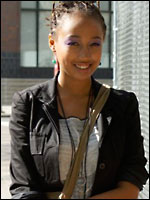 What can I say about The Gussie Gazzette? Everybody loves her Jokes and Riddles but it is her fresh and uncluttered view of the world that I like the best. Whether she is sharing her views about politics or fashion, reviewing a book or expressing her opinion about current events, The Gussie Gazzette is fun to read!



Subscribe To The Gazette!
09.19.05 | Interview with Narciso Rodriguez
I am a fashion designer for a living but love taking photographs as well. When I am not sketching I am taking pictures. More...