Carolina for Kibera
In January 2001, Rye established Carolina For Kibera, Inc. (CFK), an international non-governmental organization. A program of the University Center for International Studies funded in part by the Ford Foundation, CFK leads a medical clinic, all-girls center, and youth sports association in the Kibera slum of Nairobi, Kenya.

Founder Rye Barcott, graduated in 2001 from the University of North Carolina at Chapel Hill with a B.A. in Peace, War, & Defense, and International Studies. Formerly a Triangle Institute for Security Studies Millennium Fellow, Rye is Co-Author of "American Anthropological Association Statement on Ethnic Cleansing," and Co-Editor of Armed Conflict in Africa.

An officer in the United States Marine Corps, Rye has recently returned from serving on active duty in Iraq. He possesses a unique commitment to make a difference for people. It is what his whole young life is about. Rye is just twenty seven years old.

I continue to support Rye Barcott and the work of Carolina for Kibera. Please take a moment to learn more about them and how they are making a difference and how you might participate.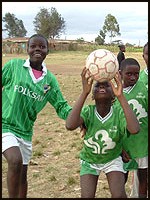 (Letter from Rye Barcott and Kim Chapman)
Dear Friends of Kibera,
TIME for Kids featured CFK on the cover of its March 30th edition.
As always, please help us spread the word. This article on CFK is an example of how CFK helps educate young Americans about issues regarding global health and global poverty through our community-based programs in the Kibera slum of Nairobi, Kenya. One of our favorite replies to the article came from Joe Schuman, who wrote: "I am a 12 year old boy who loves soccer and doing good deeds for others. When I read about your organization in Time for Kids, it made me so happy to see that people are helping less fortunate kids in Kenya." Joe plans to support CFK by organizing a soccer ball drive among friends and family for his bar mitzvah in September.
PLAYERS WITH PRIDE

by Martha Pickerell for Time For Kids

It is a Saturday morning in Nairobi, Kenya. Hundreds of poor kids gather at a school field in Kibera (ky-bee-rah), a large slum. They play in a soccer league, and it's game day.

Their equipment would surprise most U.S. soccer players. The kids have spades, rakes, wheelbarrows and trash bags. They will spend five hours clearing trash, sorting items for recycling and hauling it all away. In one year, the kids will clear more than 250 tons of garbage from their community. Digging into Kibera's mountains of trash is the only way to earn a spot on a team.

In Kibera, nearly 1 million people live in an area that's less than a square mile. The residents are poor, and many have health problems. There is a history of violence between members of several different ethnic groups. But an organization started by a U.S. Marine captain is helping Kibera's residents rise above despair and imagine a brighter future.

Hope in a harsh place
Rye Barcott was a student at the University of North Carolina-Chapel Hill when he first visited Kibera in 2001. He decided to start Carolina for Kibera (CFK) to help people living in the slum build richer lives. Having kids clean up Kibera before playing soccer was his idea. "They accept some responsibility for the welfare of their community," he told TFK. As a U.S. Marine, Barcott has served in Bosnia, Africa and Iraq. He returns to Kibera often and keeps its people in his heart. "I think about Kibera every day," he says.

The sports program's manager in Kenya, Salim Mohamed, works directly with the soccer teams. No fighting between ethnic groups is tolerated on the teams. "Building relationships that cut across ethnicity is key to CFK," says Mohamed. "A culture of love and respect is shared."

The league has about 2,000 kids playing on more than 200 teams, including a girls' league. Most girls in Kenya do not play organized sports. "Establishing girls' soccer shows that the community has accepted that girls can be involved in sports too," says Mohamed.

Beyond the soccer field
Girls in Kibera are rarely encouraged to get an education, either. Traditionally, women marry young. A CFK group called Binti Pamoja, which is Swahili for Daughters United, is helping girls to envision a new kind of life. "I see CFK's impact in their hope, vitality and dignity," says Kimberly Chapman, the chairperson of CFK's board of directors. Chapman volunteers her time for CFK in North Carolina, where she lives. She makes the 15-hour trip to Nairobi at least once each year.

With the U.S. Centers for Disease Control and Prevention, the group supports a free health clinic in Kibera. More than 15,000 patients per year visit the Tabitha Clinic, which has two full-time doctors and many staff members from the community. "When I first arrived in Kibera, six years ago, many residents had never seen a doctor in their lives, let alone had a chance to visit one in the slum," says Barcott.

In every program that CFK sponsors, Kiberans take responsibility and have the power to make decisions. "CFK values that nothing in life is free," says Mohamed. "Everything has to be earned. The young people have learned that they can contribute to the solutions that affect the community."

CFK's leaders see the future in today's hardworking soccer players. "These youths will one day be able to challenge the systems and structures that created Kibera in the first place," says Barcott. "CFK is much more than soccer."
On March 29th, CFK held a groundbreaking ceremony in Kibera attended by the U.S. Ambassador to Kenya for the new 16-room, eco-friendly Tabitha Medical Clinic. Designed by the Kenyan architect Rueben Mutiso and Architecture for Humanity, the new clinic will better serve the community with quality health care. Since CFK partnered with the CDC last year, the clinic serves over 100 patients every day. The Tabitha Medical Clinic is now the only medical facility in Kibera with two medical doctors on staff full-time. The groundbreaking ceremony was made possible because of $50,000 grants from both UNC-Chapel Hill and Duke University.
CFK continues to serve as a model for other community-based organizations worldwide. In February 2007, CFK Program Manager Salim Mohamed traveled to the Gambia to help advise a grassroots organization hoping to start a similar sports program (at no cost to CFK). Meanwhile, Binti Pamoja (Daughters United) alumnus, Fatuma Roba, traveled to New York City to attend the UN Commission on the Status on Women and give a formal address to the assembly. Her passionate speech included a description of life for adolescent girls in Kibera and what CFK's Binti Pamoja Center has done to address the issues they face. Fatuma is 20 years old and was one of the original members of Binti Pamoja. She has since completed her secondary schooling with support from the Binti Scholarship Fund and is a leader and role model in Kibera.
In March 2007, Binti Pamoja's co-founder, Karen Austrian, and program coordinator, Caroline Sakwa, were invited to Bolivia to present at a workshop on financial literacy for youth. During the past year, in partnership with the Global Financial Education Program (funded by the Citigroup Foundation), Karen and Caroline developed and piloted a financial literacy curriculum for adolescent girls in Kibera, a process which included market research to determine girls' knowledge, attitudes, and practices about money management, drafting and pilot-testing the curriculum, and training alumni members to be facilitators of that curriculum. In the coming year, Binti Pamoja will develop a global curriculum from these materials that Citigroup will distribute worldwide.
CFK's founder, Rye Barcott, traveled to Kibera in January and welcomed two new members to the CFK Kenyan Board of Trustees: Chiuri Ngugi and Dr. Grace Irimu.
Chiuri is a Columbia Law-educated Kenyan attorney who runs his own law firm and served previously as a human rights attorney. Dr. Irimu is one of Kenya's first female professors of medicine at Kenyatta National Hospital. As a pediatrician, she helped train both of CFK's Tabitha Clinic doctors.


Named a TIME Magazine and Gates Foundation "Hero of Global Health," Carolina For Kibera (CFK) fights abject poverty and helps prevent violence through community-based development in the Kibera slum of Nairobi, Kenya and beyond. CFK envisions a world where the poor have a voice in their futures and opportunities for healthy growth. We are rooted in the conviction that solutions to problems involving poverty are possible only if those affected by it drive development. Concerned outsiders can help by mobilizing communities, advising, networking, and providing resources. Ultimately, however, the community possesses the knowledge and motivation that are necessary to solve its own problems.

Kibera is the largest slum in East Africa and one of the most densely populated urban areas in the world. Over 700,000 people live in an area the size of New York City's Central Park. It has a severe shortage of government services and a history of ethnic and religious tension. Over 20% of Kibera's population is estimated to be HIV positive. Indeed, Kibera is a microcosm of the rapid growth of slums world-wide. The UN projects the world's population to increase by over two billion over the next 25 years. Nearly 90% of that growth will occur in developing world cities.

In 2001, Rye Barcott, then a student from the University of North Carolina at Chapel Hill, teamed-up with the late Tabitha Festo, a nurse and widowed resident of Kibera, and Salim Mohamed formerly of the Mathare Youth Sports Association. Together they established CFK. CFK's flagship program is its sports program, which uses soccer to promote youth leadership, community development, and ethnic and religious cooperation. Supporting the visions of residents of Kibera, CFK has since established the Tabitha Medical Clinic, which treats over 30,000 patients per year, the Binti Pamoja (Daughters United Center), which creates safe spaces for girls and young women in Kibera and conducts HIV/AIDS peer education, and Taka Ni Pato (Trash is Cash), an innovative waste management program that supports over 100 youth in Kibera who have created sustainable, environmentally friendly business enterprises.

CFK is an international non-governmental organization based in the Kibera slum of Nairobi, Kenya. CFK has an office and youth center in Kibera, as well as support services housed at the Center for Global Initiatives at the University of North Carolina at Chapel Hill. Run by Kenyans and advised by American and Kenyan volunteers, CFK's primary mission is to promote youth leadership and ethnic and gender cooperation in Kibera through sports, young women's empowerment, and community development. Additionally, CFK works to improve basic healthcare, sanitation, and education in Kibera. Serving as a model for holistic, community-based urban development world-wide, CFK has helped grassroots organizations develop youth-based programs in six other nations and dozens of communities in Kenya.

Visit the Carolina for Kibera website.
Meanwhile, CFK welcomed back Emily Pierce as a Vice President. Emily returned from Argentina, where she was a Rotary Foundation Ambassadorial Scholar. She will be working full-time with CFK's development activities. CFK's long-time administrative officer, Beth-Ann Kutchma, is now a Vice President of CFK and recently designed a new CFK brochure that you should receive by snail mail in the next month.
CFK also welcomed Kenyan entrepreneur, Joseph Nganga, and the former Dean of Harvard's John F. Kennedy School of Government, Professor Joseph Nye, to its Advisory Board. Additionally, CFK is delighted to participate in the UNC School of Public Health Commencement Ceremony this Spring. CFK has benefited from a number of volunteers from the school over the past six years. Rye Barcott will deliver the commencement address on May 12th.
CFK's support from the Ford Foundation ends in 2009. Therefore, to reach long-term sustainability and impact even more young lives, CFK will raise a $2 million endowment to cover core operating costs indefinitely (and will of course grow with time). It will be managed by UNC. In 2005, UNC's endowment grew by 19%. To reach this goal, generous supporters are holding fundraisers for CFK in Hilton Head, New York City, Palo Alto, Chapel Hill, and Charlotte.
We have already raised $160,000 for the endowment. These initial American supporters realized that their donations to CFK are more than kind gestures to one slum community. These donations are investments in the very future and stability of the world. CFK is an international model for holistic, community-based development. CFK saves lives, prevents ethnic and religious violence, and creates opportunities in a place that outsider observers often cast away as hopeless. Through its diverse programs, CFK is shaping a new generation of African leadership, a generation that has lived in the unforgiving cauldron of poverty and risen above it to inspire and lead others to do the same.
If we could interest you in making an endowment pledge, please let us know.
Tujiunge tuangaze - We shed light and we unite.
Rye Barcott, President & Founder
Kim Chapman, Chair, Board of Directors
DANAROC.COM STORY ON RYE BARCOTT

As a student at the University of North Carolina, Rye Barcott received a BA in Peace, War, and Defense and also studied Swahili. The driving force behind his commitment to making a difference in the world was partly due to the civil war in Rwanda and the violence brought upon youth by their peers.

Carolina for Kibera, Inc. (CFK) is a 501(c)(3) international non-governmental organization housed at the University Center for International Studies at the University of North Carolina at Chapel Hill. Rye Barcott is its founder.

What kind of person would dedicate their life to improving the quality of life for people on the other side of the world? What kind of drive, desire and determination does it take to start an organization for people who are nothing like you? How do you do that?

This is what I wanted to know so I asked Rye.

This is what he said...

Click here to read our complete story, "A Lesson in Living" on Rye Barcott.