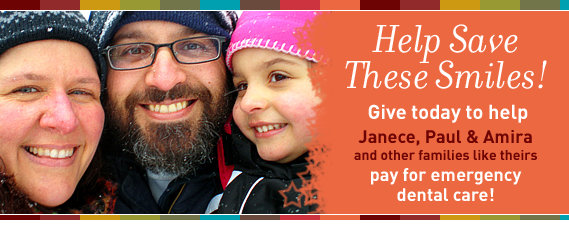 Watch more about about this exciting new initiative and learn more about
my passion to see a health safety net put in place for those in need.
WATCH MORE VIDEOS


Give Today!
The Friend of a Friend Healthcare Initiative Kick-off held Tuesday, July 14th was a great success.

Hosted by the Chelsea Hotel and catered by BarBossa, guests spent the evening hearing from Dr. Bert Petersen, listening to Debbie Deane and the moving and powerful poetry of Dana Russell. Feedback regarding the event was unanimously positive!

==============
All donations will go directly to
EDMONDS WOODWAY DENTAL CARE
,
the office of Dr. Michael Hrankowski who will be providing their dental care.
Checks can be made payable to:
Edmonds Woodway Dental Care
.
Mailing address:
Friend of a Friend Healthcare
Hope and Restoration Project
c/o Edmonds Woodway Dental Care

21810 76th Avenue West, Suite 102 Edmonds, WA 98026
Donations are not tax-deductible.
Donations received:
As of 2/01/10, Dr. Hrankowski's office has received through PayPal and checks for Paul & Janece's emergency dental care: $2915
Care status:
Janece's oral surgery on July 22nd went exceptionally well. Thanks to your giving, 75% of the surgery costs were covered. Thank you!!
Janece will be undergoing Phase 3 this spring. She is tentatively scheduled, funds allowing, to go in for her next 3-hour surgery. We will update as we know more. Thank you again for your continued support!
Ways that you and your friends can get involved
Get involved! Remember that 100% of the proceeds raised by the Friend Of A Friend Healthcare Initiative will go to pay the healthcare costs of the Moments - our first featured family.

1) Send this link to a friend - www.danaroc.com/healthcare! Here's a sample message you could send: "Help save these smiles! Give today to help Janece, Paul and Amira and other families like theirs pay for emergency dental care!"

2) Organize an event! Fun events could include a neighborhood garage or bake sale, a local concert or talent show, etc. Play around with it and have fun, and be sure and post your videos and photos of the event on our Facebook page.

3) Entrepreneurs and business owners, invite your customers to make a difference with their purchase! Consider donating a percentage of a special one-day sale or event.
About My Friends
Paul, Janece and their beautiful little 4-year old Amira are no different than many other hard-working American families. Paul is a talented web-design freelancer who was just recently employed full-time at a local agency that helps non-profits and Janece is an artist, photographer and stay-at-home mom doing a great job of preparing Amira for kindergarten this fall.
Their story is a familiar one. Like many freelance entrepreneurs, Paul and Janece could not afford the astronomical costs of medical and dental insurance and had to keep putting off expensive coverage in favor of more pressing needs like food and rent. And like many, they now find themselves unprotected in a crisis.
Both Janece and Paul are facing dental care needs that will cost tens of thousands of dollars to repair - needs that, if not met, constitute at the least a huge systemic health problem and at the worst a serious life-threatening danger. (When dental health deteriorates and oral decay begins to spread, the effect on the body is immediate and systemic, with negative impacts that range from lowered immune resistance all the way up to fatal heart or brain disease. Read more about the tragic death of a young boy from tooth decay here.)
Additionally, Janece's ability to get a job to offset the costs has been impaired due to a tooth she's already lost. For example, she was asked in a job interview if she took drugs because she had a tooth missing. It was a snap judgement by a thoughtless interviewer, but it's typical of the discrimination faced by otherwise talented and capable people who happen to have dental challenges.
Like many other of our friends and neighbors, Paul and Janece work hard, are loyal and trustworthy friends, and contribute to their community in many uplifting and productive ways.
In helping them, I'm taking a first step towards raising awareness and organizing aid for all those who, like them, have no safety net when crisis hits.
I'll be adding videos of how the initiative and their treatment is going, so keep checking back!
About Friend of a Friend Healthcare
Hope and Restoration Project
There are over 44 million Americans who are without healthcare. You know some of them. They are your coworkers, your friends, your family - maybe even you.
Today I'm coming to you on behalf of my own friends, Janece and Paul, who find themselves in the middle of a serious dental health crisis without the resources to pay for medical treatment.
We can't immediately help everyone, but we can make a difference for their family, and maybe many others. My hope is that this campaign inspires you and your community to give, and also inspires other healthcare providers to do what they can to help as well.
Read more about how Dr. Hrankowski, our dental care partner, has made a lasting impact in his community.
Partners
Dr. Hrankowski, a Seattle native, has been in private practice since 1982. He has earned degrees in both Psychology and Dentistry from the University of Washington and has also served as a dental school faculty member and clinical instructor.

Dr. Hrankowski donates a week or more every year to providing free dental services in the desperately poor areas of Haiti and Jamaica and he also created a "Day Of Caring" to offer free help to the needy in his own community. He practices dental medicine at his clinic Edmonds Woodway Dental Care, just north of Seattle in Washington State.
Dr. Bert Petersen is one of the leading breast cancer surgeons in the country.

His expertise in the area of cancer care and the overall well-being of people is surpassed only by his desire to leave a legacy of advocacy for healthy living for all. He works tirelessly to improve healthcare for people where it is needed most and he is never too busy to lend a helping hand.
Other Generous Partners

David Elder, Chelsea Hotel
Debbie Deane, singer/songwriter
Katya Grineva, award-winning pianist
Carl Demler, Beethoven Pianos
Tariq Haq, BarBossa
Olubode Shawn Brown, Bloom Productions
Special Thanks to these Friend of a Friend Contributors
Staci Cain is the owner and proprietor of 45Three Modern Vintage Home. Staci keeps her store, in the heart of Los Angeles, stocked with wonderful, eclectic vintage home furnishings.

Last weekend, Staci organized and held a sale and donated 10% of her weekend's proceeds to the Friend of a Friend Healthcare Initiative!

A big and heartfelt thank you to Staci for helping the Friend of a Friend Healthcare Initiative in such a meaningful and creative way!




Another Friend of a Friend Healthcare Initiative supporter, Emma Earl, is organizing a community rummage sale in Madison, Wisconsin. Proceeds of the sale will go to Friend of a Friend. Check back for more updates on how this event went.